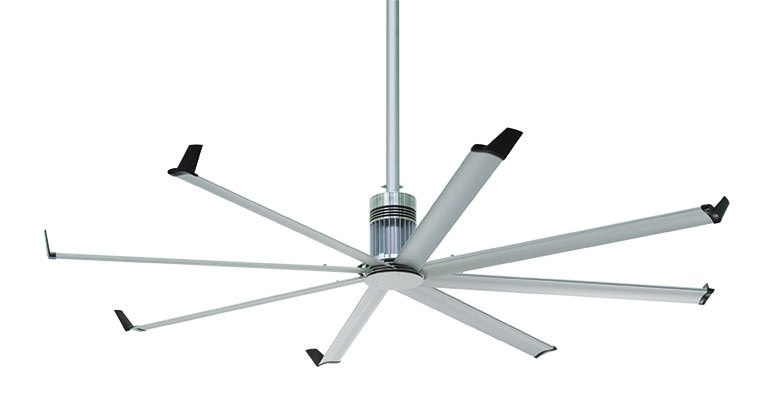 Ceiling fans are a useful functional feature in many home spaces, helping circulate air in today's increasingly airtight homes. They are helpful in making people feel cooler and more comfortable without lowering the air temperature for both indoor and outdoor living areas. In winter, they help move warm air that rises to the ceiling back down into the living space. That makes for energy savings as well as comfort.
Most homeowners prefer clean-lined designs and light colors to blend into the ceiling and minimize the visual impact of a fan. For those who want to accent a high ceiling or loft-like living area, there are oversized fans and industrial cage-enclosed designs. Features like bronze finishes, rattan blades and windmill style fans can enliven outdoor areas. Lighting options for fans range from sleek and understated single lights to ornate chandeliers. If you're looking for a decorative fan in a children's room, there are airplane and space fans, sports fans for just about every game and team, flower petal blades, and fans bedecked with sharks, butterflies, bugs, Care Bears, and super heroes.
The number of blades in a fan is no longer important for airflow and is mostly a matter of style preference. Fans with 4 or 5 blades are traditional; those with 2 or 3 blades tend to be contemporary and sleek. Larger fans can have 12 or 14 blades.
Controls, like decorative elements, also vary—from pull chains, to hard-wired wall switches, remote controls and smart fan technology. Some fans have direct current (DC) motors, which are more expensive but offer several benefits over conventional motors. Because they are smaller, they allow for smaller and lighter fans; they are also more energy efficient, operate very quietly, have a longer life span and can provide up to 6 speeds.
Whatever your preferences for style, controls and motor, there are two keys to optimal fan function: picking the right size fan for the space and ensuring proper installation. Below are some key considerations.
By code, a ceiling fan must usually be at least 7 feet from the floor. The optimal height is typically 8-9 feet above the floor. Codes sometimes require fans with metal blades to be hung at least 10 feet above the floor. Flush-mounted fans (sometimes called huggers) are available for low-ceilinged rooms. Manufacturers also provide extension rods for very high ceilings. Ideally, a fan is mounted with at least 12 inches pf clearance between the ceiling and the blades for air circulation.
The bigger the room, the larger the blade size: for example, a 144 to 225 square foot room calls for a 44-50 inch blade span; a 225-400 square foot room requires a 50-54 inch blade span, and very large rooms call for 60-80 inch blade spans. There's even a company specializing in oversized fans for large spaces — Big Ass Fans
Allow a minimum of 18 to 24 inches of clearance on all sides of the fan.
Many fans have a canopy (the part that attaches to the ceiling) that can accommodate a ceiling slope of up to 30 degrees. Manufacturers often offer adaptors (sometimes called angle mounts) for steeper ceilings.
Ceiling fans can weigh 50 pounds or more and require a junction box rated for ceiling fans. The box should be anchored to a ceiling joist and installation by a licensed electrician is advisable.
Ceiling fans used outdoors should be damp or wet location approved. Inexpensive fiberboard blades don't hold up well outside; wood may work but may be subject to wreathing. Metal is generally best for outdoor applications.
About Gulick Group, Inc.: Established in 1987, Reston-based Gulick Group has developed communities throughout Fairfax and Loudoun Counties, including One Cameron Place and Newport Shores in Reston, The Reserve in McLean, Autumn Wood, Grovemont, and the three Riverbend Communities in Great Falls, Red Cedar West in Leesburg, and Wild Meadow in Ashburn.