Gulick Group Wins Top Honors at the 2011 Great American Living Awards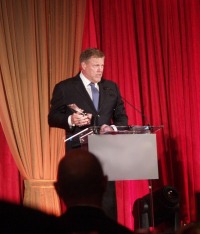 Gulick Group is proud to announce that the company received top honors at the 2011 Great American Living Awards (GALA). The honors included the Lifetime Achievement Award for President and CEO, Peter Gulick.
At the awards ceremony held in McLean, Virginia on Thursday, October 27, 2011, Gulick Group won highest recognition in the category of Corporate Brochure, Builder or Developer and in the category of Print Ad Campaign for its "The Difference Is…" campaign. Additionally, the company received an Award of Merit for Best New Website, Local Builder.
Jamie Gulick, Vice President of Sales and Marketing at Gulick Group, stated: "We are proud to have Peter Gulick and Gulick Group recognized in this special way. To have our work honored by such a prestigious panel is indeed a tribute to the notable impact of our founder on our industry, the efforts of our marketing team, and the distinctive design and extraordinary attention to detail that are our trademarks."
Presented by the Washington Metropolitan Sales & Marketing Council, the Northern Virginia Building Industry Association, and the Maryland National Capital Building Industry Association, The Great American Living Awards (GALA) celebrate excellence in new home architecture, interior design and sales and marketing.
See this press release on marketwired.
About Gulick Group, Inc.: Established in 1987, Reston-based Gulick Group has developed communities throughout Fairfax and Loudoun Counties, including One Cameron Place and Newport Shores in Reston, The Reserve in McLean, Autumn Wood, Grovemont, and the three Riverbend Communities in Great Falls, Red Cedar West in Leesburg, and Wild Meadow in Ashburn.