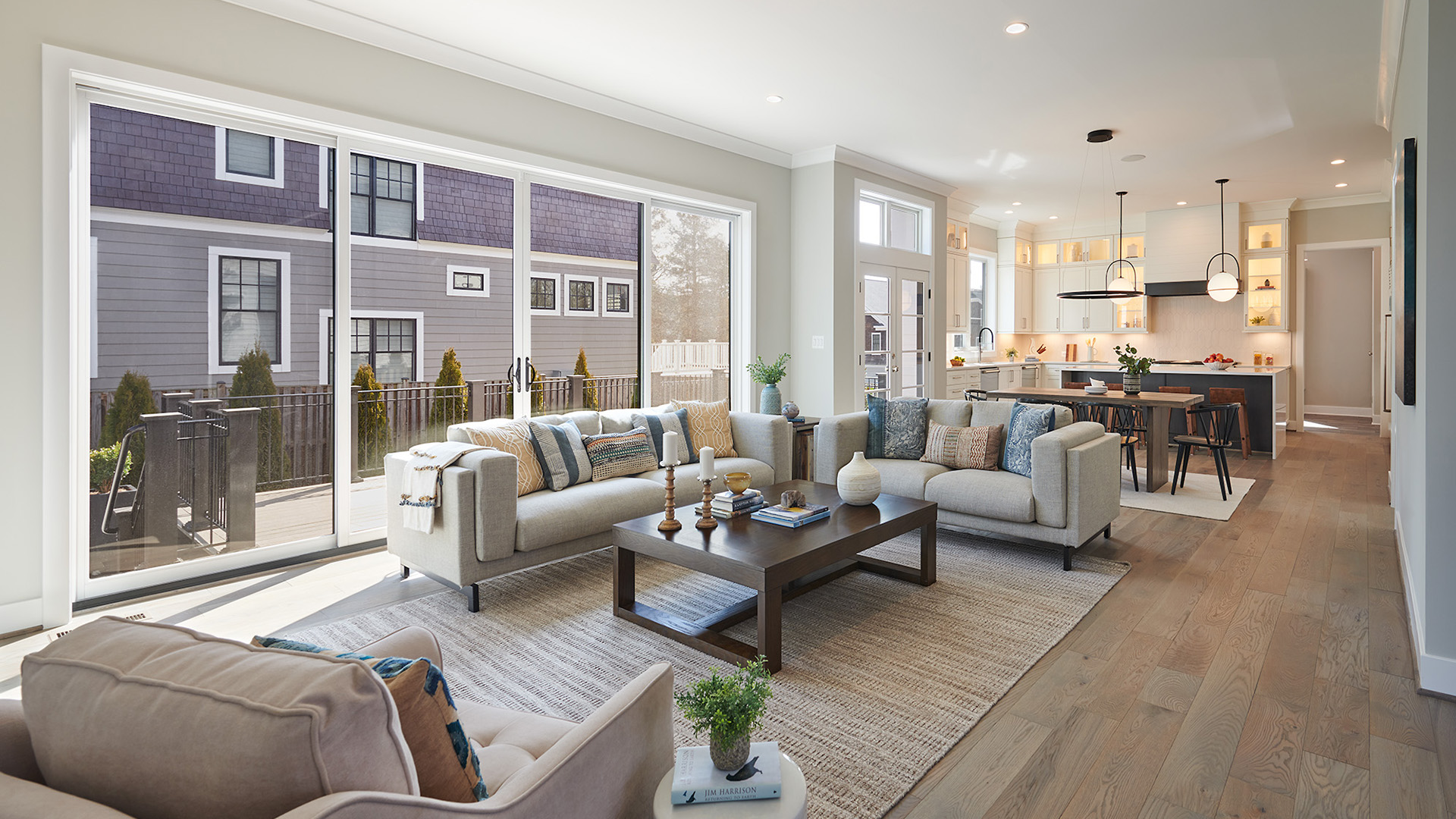 Today's access options for patios, decks, and other outdoor spaces are a far cry from the dysfunctional sliders of years past. There are many styles that are well constructed, easy to operate, more secure, weather tight, and offer features like double or triple insulated glass panes for energy efficiency. From a functional perspective, there are four basic choices, each with pros and cons. All of them bring in light and open a home to any outdoor elements with visual appeal, be that a well landscaped yard, garden, water feature, or pool.
Traditional Sliding Doors often have two glass panels, with one sliding over the other. Screen doors are readily available for traditional sliders. With a four-panel slider, the panels stack over one another, leaving the space three-quarters open. While a four-panel door gives a much wider opening, the track takes up about a foot of floor space. Another option is a very large slider (up to 16 feet wide) with two middle slides. This gives a lot of open area without sacrificing floor space. These types of doors typically cost about $5,000 to $10,000 more than a comparably sized window.
Exterior Pocket Glass Doors have panels that slide into pockets in the exterior wall. Because of structural limitations, two-panel doors are not as wide as a regular slider. If you choose a wider pocket door with multiple sliding panels, they can stack over one another, but this requires a large pocket—and an exterior wall up to two feet thick. Pocket doors provide wide-open access but run $20,000 to $30,000 more than comparably sized windows.
Folding glass doors have concertina style panels that stack at right angle to the wall for a large opening. They have a narrow track, but the stacked panels take up space on either side of the door, potentially limiting traffic and furniture placement. The costs are similar to pocket doors – a premium of $20,000 to $30,000 over comparable windows.
A major consideration in choosing doors is how often a family will use them for access. If a home has an outdoor kitchen, a nearby pool, or other major outdoor entertaining spaces, easy access may be well worth the investment. Many owners who choose sliders or other glass doors find they use them only a few times a year. In that case, windows can provide beautiful light and scenery, while freeing additional money for a feature the family would enjoy more often.
About Gulick Group, Inc.: Established in 1987, Reston-based Gulick Group has developed communities throughout Fairfax and Loudoun Counties, including One Cameron Place and Newport Shores in Reston, The Reserve in McLean, Autumn Wood, Grovemont, and the three Riverbend Communities in Great Falls, Red Cedar West in Leesburg, and Wild Meadow in Ashburn.