Creating Sophisitcated Sanctuary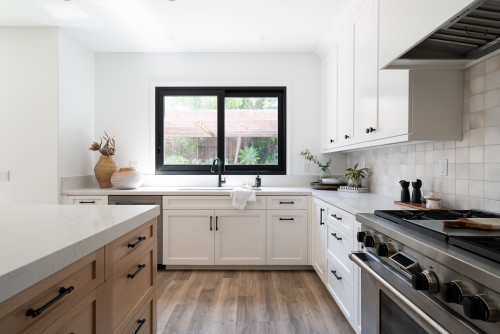 While most of us of are far less home-bound than over the past two years, home retains a powerful role in providing respite and serving as a peaceful retreat. This is reflected in current interior styles, as homeowners continue to embrace finishes that present a clean, bright, airy aesthetic.
Light wood floors and cabinets that show wood grain or lightly washed surfaces, rather than heavy stain or paint, bring natural warmth to interiors. Black and gold accents and fixtures are waning in popularity, with silver and pewter tones providing a more cohesive look, without stark contrast.
Where before the countertops on islands and backsplashes were the focal point of a kitchen, they have become more understated and are often solid white or include only subdued veining. Most homeowners opt for tile or stone with texture rather than garish patterns for backsplashes.
The overall effect is polished, and sophisticated, welcoming, and almost spa-like. It makes for a home that's beautiful and elegant, yet comfortable and comforting.
About Gulick Group, Inc.: Established in 1987, Reston-based Gulick Group has developed communities throughout Fairfax and Loudoun Counties, including One Cameron Place and Newport Shores in Reston, The Reserve in McLean, Autumn Wood, Grovemont, and the three Riverbend Communities in Great Falls, Red Cedar West in Leesburg, and Wild Meadow in Ashburn.