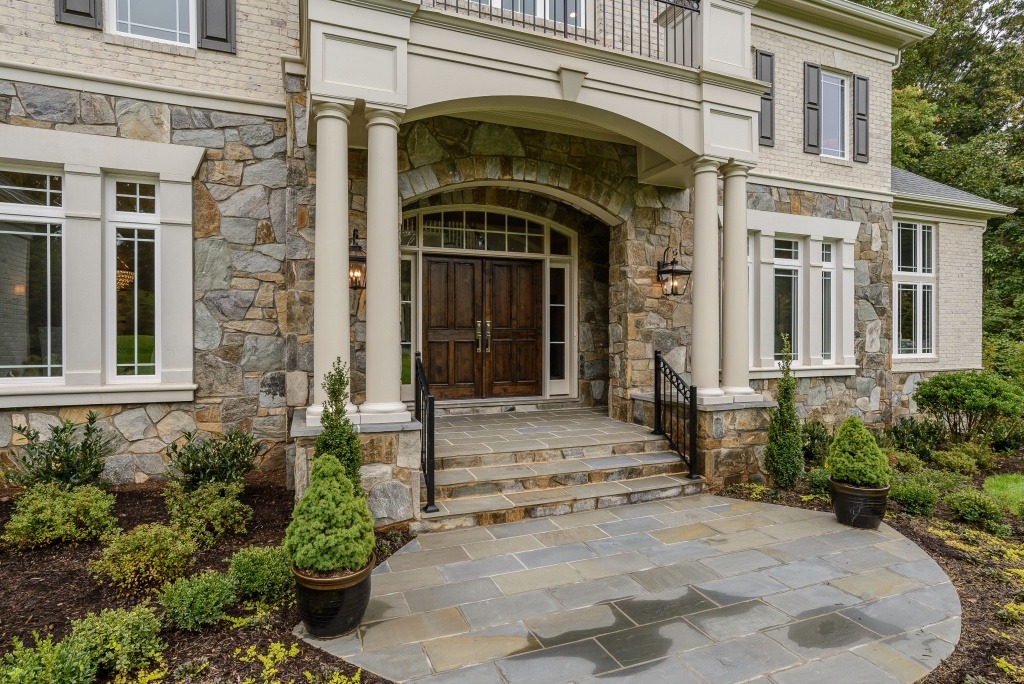 Front doors are a natural focal point, helping define your home's style and curb appeal from the moment your guests arrive. For larger homes with tall ceilings, a larger door — often 8-12 feet high — makes a statement and complements the home's scale. A solid wood or iron door can evoke a sense of quality. A metal door feels durable and secure, and reduces the periodic maintenance required for a natural wood door. A composite solid core exterior door can provide the beauty and heft of wood, without the tendency to warp or swell from weather extremes, while fiberglass is a practical and affordable choice for secondary exterior doors. Oversized sliding doors for patios and other outdoor living spaces are popular to help bring the outdoors in.
Further, an entry is more than just the door. Transoms, sidelights or glass panels within a front door add light and drama to a foyer. Venetian glass, frosted glass, and similar treatments provide both privacy and light.
For most homes, you should shoot for subtle elegance; less is more for a front door. Ornate styles can feel dated even in more traditional homes, and doors should complement rather than overwhelm other exterior features. A tall double arch-top door with glass is among the most popular, current, and impressive styles. Sleek rectangular doors are popular in more contemporary homes, often with glass glazed directly into the door, instead of being framed by molding.
Interior doors are equally important in signaling quality and evoking style. A modest upgrade from hollow core to solid core doors makes a remarkable difference. Composite solid core doors offer strength along with greater noise and temperature containment. Interior doors are trending taller (up to 8 or even 9 feet), in scale with high ceilings. Like exterior doors, more streamlined styles with minimal trim are fresh for modern, transitional, and contemporary farmhouse styles, and sliding barn doors are popular farmhouse treatments.
About Gulick Group, Inc.: Established in 1987, Reston-based Gulick Group has developed communities throughout Fairfax and Loudoun Counties, including One Cameron Place and Newport Shores in Reston, The Reserve in McLean, Autumn Wood, Grovemont, and the three Riverbend Communities in Great Falls, Red Cedar West in Leesburg, and Wild Meadow in Ashburn.