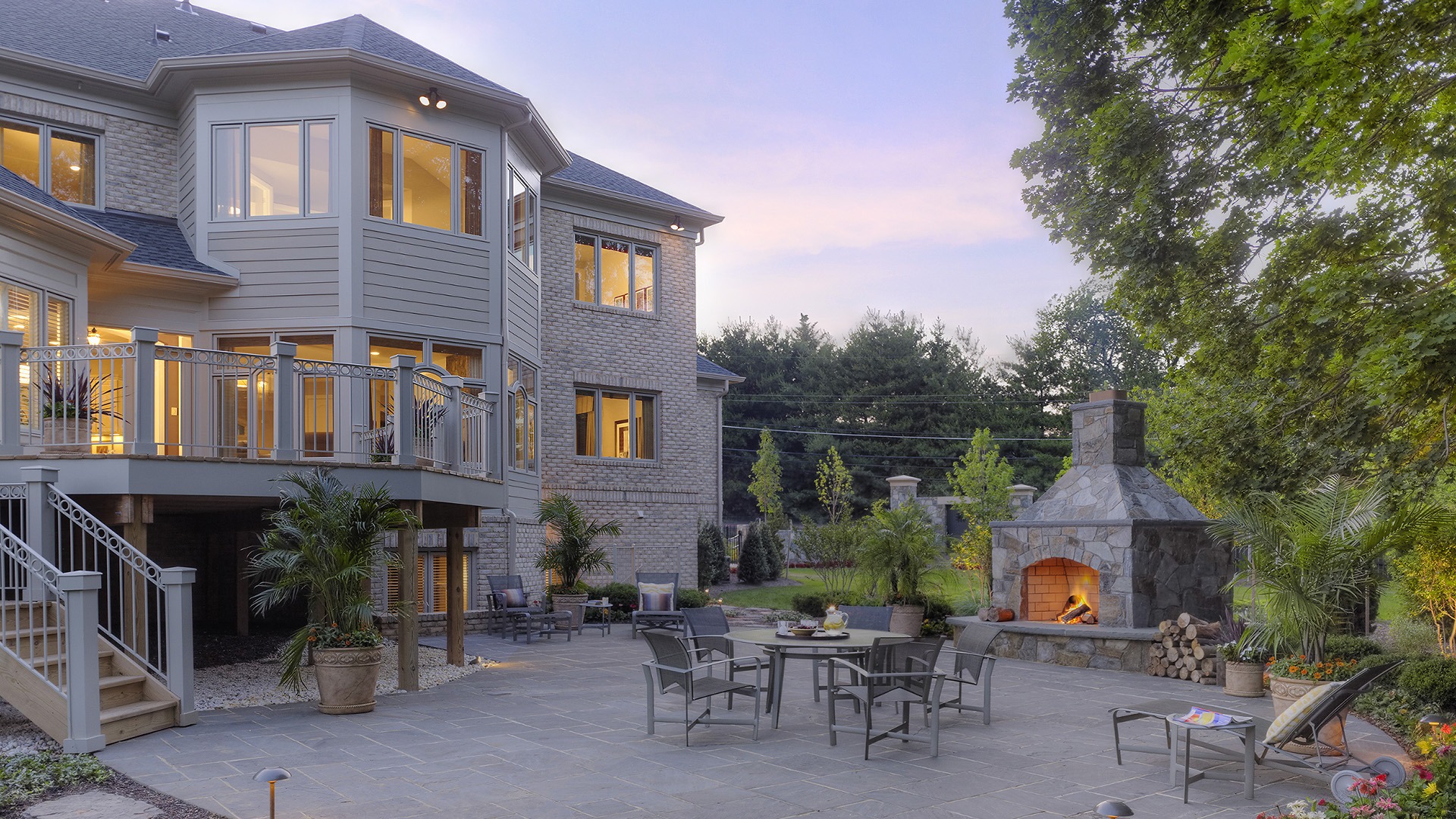 Outdoor Spaces, Views, and Livability of Your Home
Indoor-outdoor living has become a prevalent part of many people's lives, whether on a grand scale like a screened porch or pool/patio complex, or through a smaller outdoor amenity like an herb garden, coffee patio, pergola, swing, or grilling area.
With the exception of pools, it's often fairly easy to add outdoor living spaces well after the home is built. If you're planning a future outdoor space, consider:
Traffic flow through your yard – Will a new space or feature require new walkways or disrupt access to other spaces?  How will the construction personnel access the build area, and will it disrupt existing plantings?
Siting – Optimize for sunlight (or shade) in various seasons, and create harmony with your home. You should consider septic field location, if applicable, privacy and access to utilities if your space will need electricity, water, or gas.
Access – How will you access your new living space?  If building new, you may want to add one or more extra doors during the build when it's much easier and less costly.  Depending upon the space, a glass wall might help add drama.
Landscaping – Often, the keys to making an outdoor space feel private and highlight the outdoor environment are landscaping and lighting.  Especially on smaller homesites, trees, flowering plants, screening, and thoughtful lighting (for evenings) can help enhance the  space and mood just like the lighting and finishes in your home do on the inside.
For decades, a deck was the most popular outdoor living space. Decks now are typically built from wood composites (i.e. Trex or Timbertek)  for low-maintenance durability. Composites do absorb heat in direct sun, however, so they may not be the best option poolside or in other spaces where you plan to be barefoot or if you have children.
A stone or brick paver patio is comparable to a deck in price per square foot. Installing pavers over sand is less expensive, but typically can result in more maintenance over time as the surface gets unlevel  due to freeze/thaw cycles…which makes chairs and other furnishings catch and can create a tripping hazard. For stability, pavers should be installed over a concrete, which often lasts longer with less maintenance. Also, be careful how you treat your patio in winter for ice.
Outdoor kitchens have grown popular in recent years. They range from a simple grille island to a fully furnished kitchen with outdoor microwave, stovetop or burners, sink, refrigerator, and specialized cooking gear like rotisseries, smokers and pizza ovens. If you cook outside frequently, storage for utensils, cookware, and grille gear might be a worthy investment, but they can get pricey as they grow more full featured. Pro-tip; don't forget to think through general and task lighting when you build your outdoor kitchen.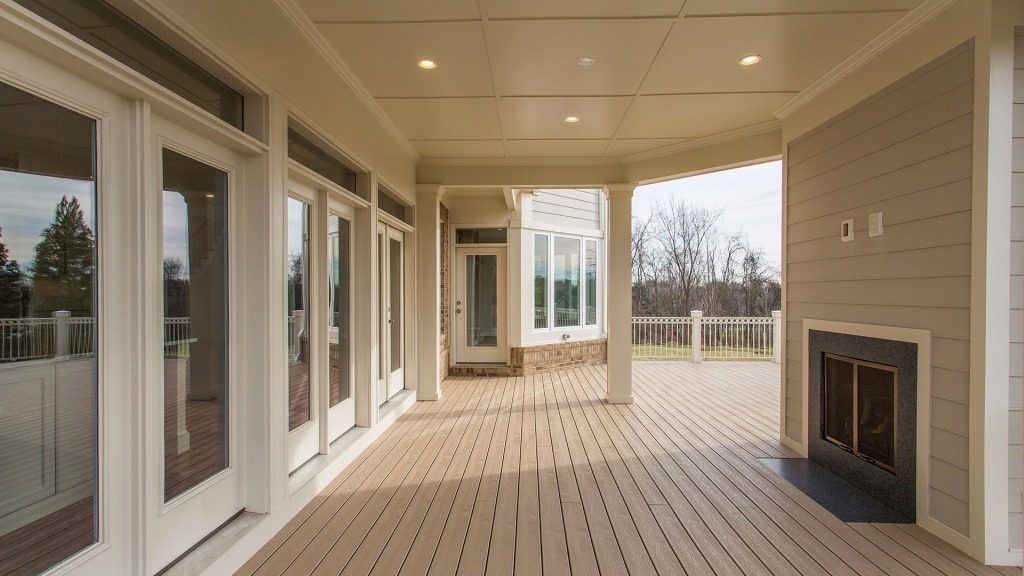 A roof or overhang can provide shelter and shade…and allow for outdoor TVs. For a kitchen adjacent to your home, include an overhead vent to prevent smoke and odors from getting trapped or moving indoors. You can include a weatherproof sound system if you entertain frequently. While some outdoor kitchens include fireplaces, fire pits are less expensive. Built-in versions are safer and more durable than the free-standing variety and can include perimeter seating.
No matter the space, select fixtures, surfaces, appliances and furnishings with an eye to durability and weather resistance. Stainless steel, marine grade polymer and teak are outdoor friendly options for cabinetry and furniture. Countertops can be natural stone, concrete or tile, but make sure the surface is adequately sealed or non-porous to avoid mildew growth and staining over time. Manufactured surfaces, like quartz, are typically not engineered for outdoor use, and colors may fade or change from heavy sunlight.
Whether you want to add your outdoor living spaces when you build or years from now, Gulick encourages homeowners to talk through their wish list early in the process. An experienced builder can help you avoid unforeseen problems and expenses and ensure the outdoor space of your dreams enhances your home and lot—and most importantly, give your family years of enjoyment.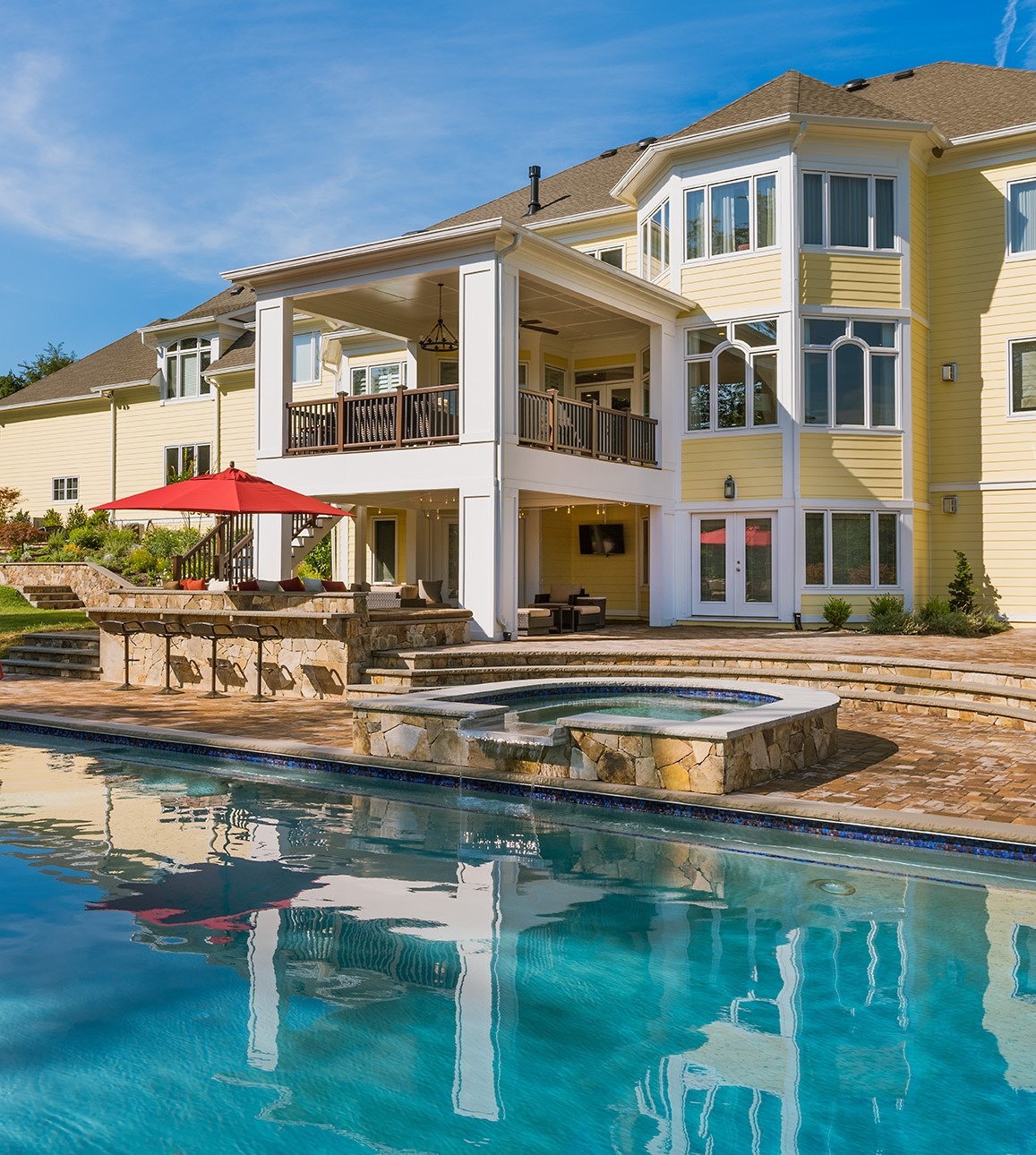 About Gulick Group, Inc.: Established in 1987, Reston-based Gulick Group has developed communities throughout Fairfax and Loudoun Counties, including One Cameron Place and Newport Shores in Reston, The Reserve in McLean, Autumn Wood, Grovemont, and the three Riverbend Communities in Great Falls, Red Cedar West in Leesburg, and Wild Meadow in Ashburn.