Taking the Plunge: Tips for Pool Planning
When you choose the best options for your home and family, a pool can be an investment that delivers years of enjoyment and helps you get the best use of the outdoor space on your homesite.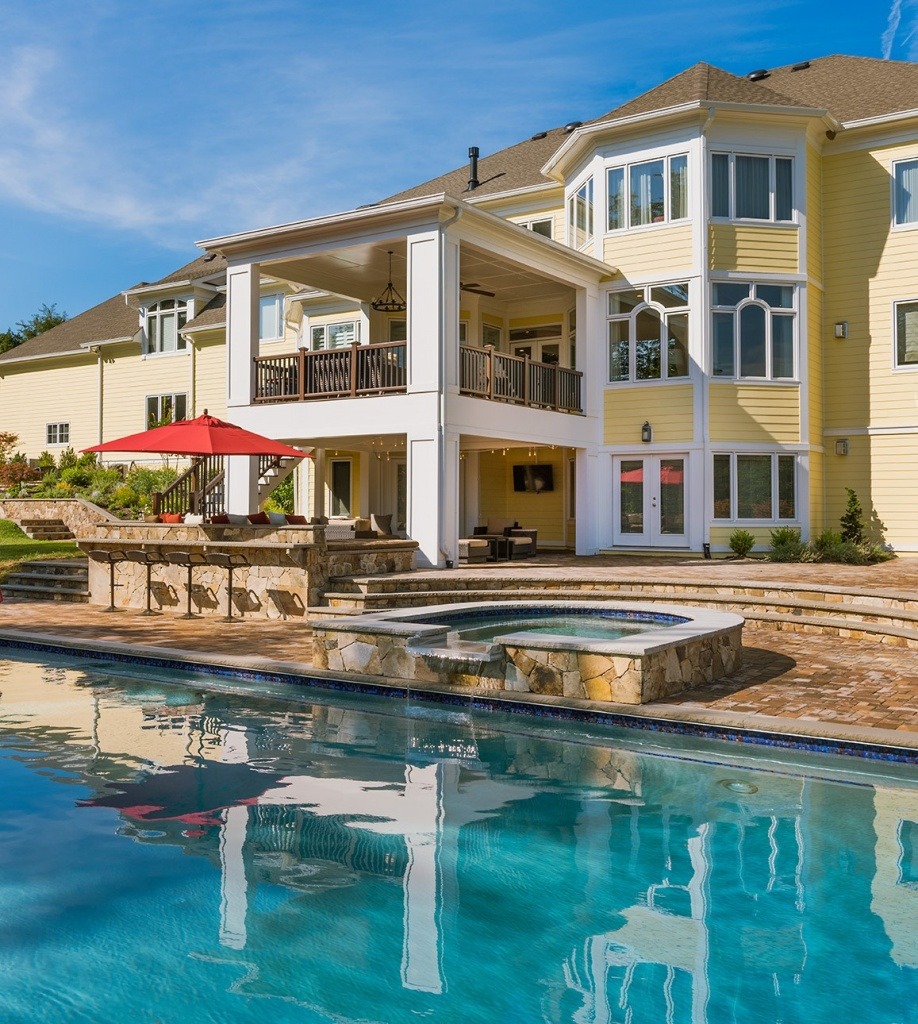 Decision 1: Now or Later
Many homebuyers view a pool as a "phase two" amenity. That's an option for many homesites, but installing a pool as you build a home offers several advantages.
Greater Design Flexibility
Once built, your home, lot restrictions, and existing outdoor living spaces may limit pool shape, size, and placement. You may have to install a pool in the shade when you want sun, or relocate an existing feature. Choosing pool decking while you're building makes it easy to coordinate with design elements such as fencing or stonework.
Better Access and Usability
Thinking about a pool when siting your home may change the way you think about your homesite. For instance, you might consider a daylight basement with a slight walkup (rather than a full walk-out). This lets you enjoy the pool view (and see the kids) from the main level, easily access the pool from two levels, and include pool related features in your lower level like a convenient shower/changing area, pool storage, or an exterior walk-up wet bar… rather than building a poolhouse to accommodate those spaces.
Less Disruption and Cost
Pool installation will almost certainly destroy landscaping and the lawn, it can ruin driveways not designed for heavy equipment when the construction trucks haul off dirt, and it may require moving, replacing, or repairing features like decks, walkways, patios, or fencing. By installing a pool while you're building, you avoid these replacement/repair costs and you can often include the cost of the pool in your mortgage.
Decision 2: Pool Type and Installer
Selecting the right pool contractor is the most important single choice when considering a pool. Expertise, reliability and quality are more important than the lowest price. Many installers specialize in a specific pool construction (concrete,gunite or shotcrete vs. fiberglass) and sanitizing systems such as chlorine, bromine, saltwater, ionization, or oxidation. The contractor should be expert in your chosen pool type. Check references and reviews and talk to your builder. Gulick Group has worked with many homeowners adding pools, and is happy to recommend and coordinate with a highly reputable pool contractor.
Decision 3: A Pool that Fits your Needs and Budget.
Do you envision using a pool primarily for family recreation and exercise, or as the focal point for outdoor entertaining? Are you looking for a pool that makes a design statement for entertaining or something more practical?
While freeform pools can blend beautifully with the landscape, a rectangular pool is often less expensive per square foot, better for lap swim, good for water games, and can accommodate an automated pool cover which helps to reduce maintenance.
Many pool owners find that the "deep end" is seldom used, with slides or diving boards becoming safety hazards; greater depth also drives up construction costs.
A heated pool allows for three-season use, and solar heating can be a worthwhile investment. Year-round spa users may want a detached spa, while others may prefer attached.
There are many choices of filtration systems, and robotic cleaning vs. manual vacuuming.
Beyond these basics, the options are limited only by budget, from grottoes and swim-up bars, to fountains, waterfalls, and light effects.
Decision 4: Safety Options
Many localities, including Fairfax County, require fencing around residential pools, with very specific requirements, such as self-closing, lockable gates. If you build your pool with your house, you can often incorporate the fence plan into the landscape design more easily.
Families with young children or pets may want alarms that alert whenever a gate is opened or someone/something enters the pool.
Ladders, stairs with handrails, or walk-in, sloped pool entrance are also good safety options. There are portable pool ramps designed to help pets exit safely, and even skimmer covers with ramps for local wildlife. There are also covers designed specifically for safety (as opposed to those only offering protection from debris and weather).
Keep water rescue equipment (life rings, etc.) at hand, and consider investing in anti-entrapment equipment for pool or spa drains.
About Gulick Group, Inc.: Established in 1987, Reston-based Gulick Group has developed communities throughout Fairfax and Loudoun Counties, including One Cameron Place and Newport Shores in Reston, The Reserve in McLean, Autumn Wood, Grovemont, and the three Riverbend Communities in Great Falls, Red Cedar West in Leesburg, and Wild Meadow in Ashburn.