From classic and understated to bold and modern, hardwood flooring is often one of the first things selected when personalizing a house and forms the foundation of the style in your home. Color, texture and wood choices abound, but durability, room function, and even the specific location within your home are also important considerations when choosing a hardwood.
Engineered hardwood flooring has been gaining ground versus solid hardwood in the common areas of homes. Engineered hardwood has a wood veneer on top of layers of wood that are bonded together (similar to plywood), while solid hardwood is a single layer of the same wood (typically about ¾ inch thick). For many years, solid hardwood (also known as "sand and finish") was perceived as more qualitative because it can be refinished several times, and most engineered hardwood had beveled edges which created "gaps" between the boards. Now, some engineered hardwoods with a thick top layer may be refinished once or twice, and the gaps have been reduced and in some cases eliminated. Engineered hardwood can also be used in some areas where you can't use solid wood… including in basements that are below grade and over radiant heating systems.
The width and texture of the planks is a key style consideration. Wide planks are currently trending, with the individual planks lending a vintage or hand-crafted effect (versus a traditional, narrow plank or strip floor where the individual planks are less noticeable for a more "smooth" appearance). There are some maintenance concerns with this trend; wider sand and finish planks can "cup" if the moisture content inside the home isn't tightly controlled. "Cupping" can become a problem during construction and show up later, or can develop once a home is occupied and humidity changes with seasonal shifts. If you install wide plank flooring later, it is a very impressive look — but even a single power outage can cause humidity shifts and cupping. This is less of a problem with engineered wood, which is why most wide plank installations use engineered.
Very dark finishes, including walnuts and ebonies, are also trending and dramatic, but require refinishing more often as every piece of dust, spot, and scratch shows more clearly. Lighter colors are also current, including whitewashed effects and gray or blue tones. You might consider a custom mixed stain, which can provide a very unique look but can be difficult to match for future repairs. Very light floors can look washed out or stark if there is not an underlying warm tone, while a mid-tone brown is classic and versatile, letting homeowners embrace trends or make a statement through other details and finishes.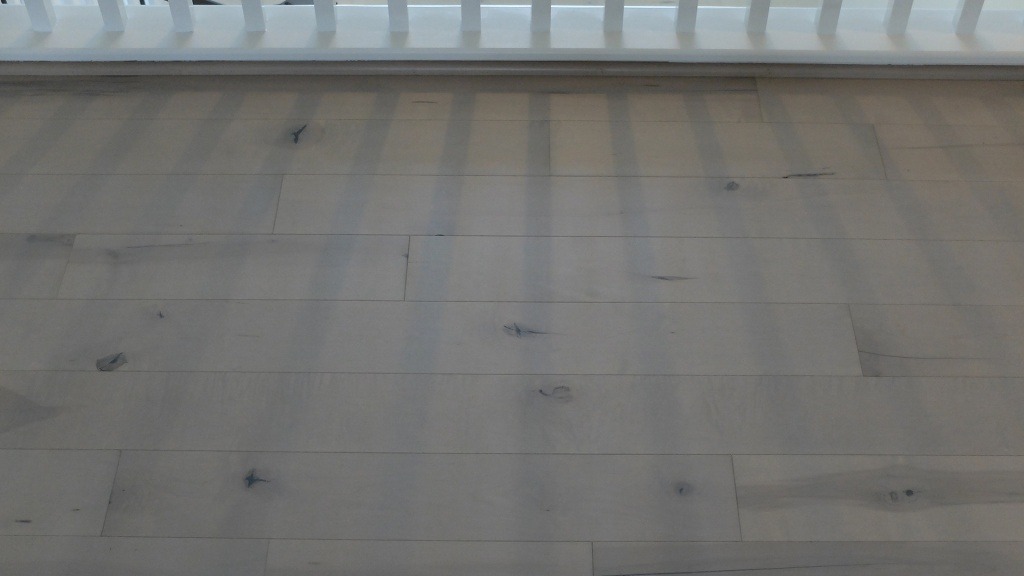 Hardwood stairs rarely match floors perfectly even when using the same stain, because of differences in the wood species used on stairs. Some homeowners use a different stair stain as an accent, while others accept the subtle difference. The same color variation holds true for wood paneling, so it's often best to pick a complementary or coordinating shade.
A variety of treatments add texture to wood flooring. Wire brushing opens the grain and can give a gently weathered appearance. Hand scraping (which can be done by machines or craftsmen) provides more texture and is often used with contemporary farmhouse or cottage décor. Distressed finishes emulate antique or vintage flooring and are sometimes used in industrial décor.
Durability is a consideration for exposed floors, particularly in terms of a wood's hardness and photosensitivity (fading or color change with light exposure). Flooring surfaces are subject to normal wear and tear, particularly if your family includes pets or high-heels are worn often in the home. Harder woods are more durable and resistant to scratches and dents; they range from expensive luxury and exotic species like mahogany, Brazilian tigerwood and teak to more affordable options like maple and hickory, and "medium-hard" woods like oak and ash. Cherry is very soft and also very photosensitive, while walnut is soft but more resistant to light damage.
Hardwood flooring is a versatile and stylish choice for many areas of your home, and can add warmth and drama in small or large spaces. Communicate with your builder or a reputable flooring supplier to explore which hardwoods work best for your décor and lifestyle.
About Gulick Group, Inc.: Established in 1987, Reston-based Gulick Group has developed communities throughout Fairfax and Loudoun Counties, including One Cameron Place and Newport Shores in Reston, The Reserve in McLean, Autumn Wood, Grovemont, and the three Riverbend Communities in Great Falls, Red Cedar West in Leesburg, and Wild Meadow in Ashburn.