Your Mudroom: Planning is Key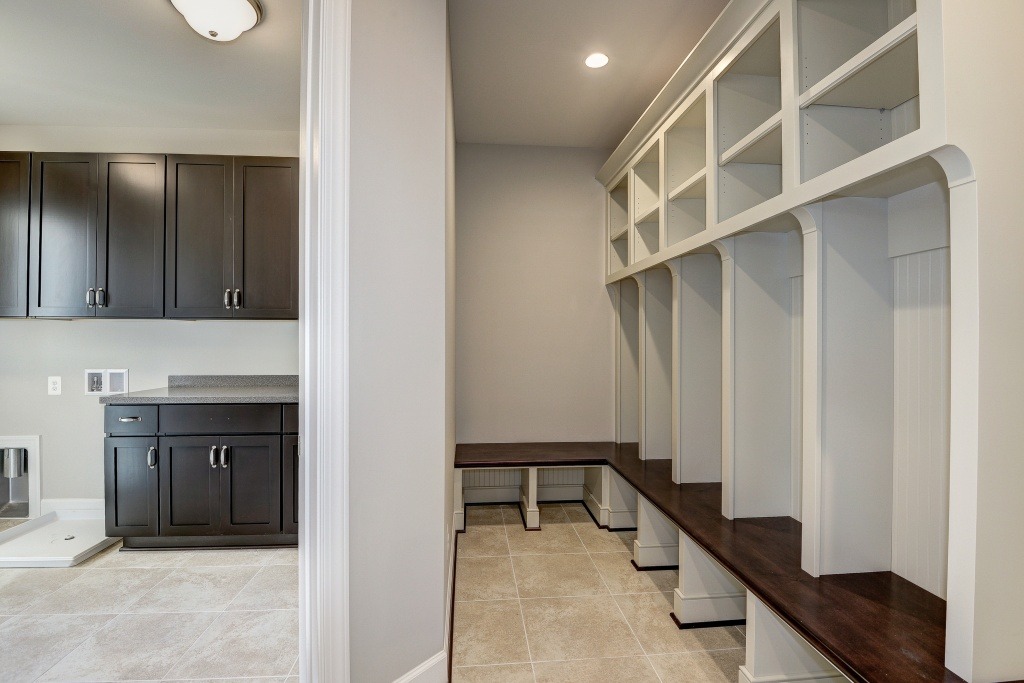 Mudrooms are among the most important functional spaces in a home. A well-planned mudroom is pivotal to keeping the rest of your home clean and organized… and making it easy to walk out daily with just what you need. This hard-working space is a must-have feature for any new home.
Every mud room needs durable, water-resistant, easy-to-clean flooring. Luxury vinyl, much improved in recent years, is a great choice. Tile is also effective, but lighter grout can stain without proper maintenance, so mildew resistant grout is worth consideration. If your mudroom gets muddy, wood may be less practical, as moisture exposure and abrasion from dirt can damage the finish.
Other musts are ample, well-organized storage, so everything is easy to find; comfortable seating for changing shoes and boots; and a rack or mat for drying wet boots and shoes.
Beyond these basics, the key to an effective mudroom is tailoring it to your family's needs. That can mean allocating some extra space for its many functions, which is a great investment for the overall living comfort of your home.
Below are six planning considerations.
Include Hanging and Longer-Term Storage
Cubbies are great to organize clutter, but often don't provide enough hanging space. If possible, include a coat closet in or near the mudroom for overcoats, sports coats, athletic jackets, rainwear, and more.
It's inconvenient to pack and move bulky winter wear, only to retrieve them for unseasonable weather. Storing boots, gloves, hats, and the rest in the mudroom makes it easy to keep track of and access them.
Plan Storage to Grow with Your Family
Insure storage components are large enough and flexible enough to accommodate clothing and gear as your family expands or your kids grow. Shelving and baskets may be more practical than fixed storage cubbies, for example.
Plan for favorite sports and activities. Football, lacrosse, hockey, snowboarding… each has distinct storage needs.
Figure in Footwear Storage
In some homes, shoes aren't worn inside, requiring a shoe closet to accommodate all the family footwear.
Most families need space for grubby boots, gardening shoes, and the like that won't live in family closets.
Keep Dirt Out of Your Living Space
Include a sink for quick cleanups.
Consider an included or adjacent bath to shower after play, sports, or yard work.
Build in a pet grooming area, a dog shower, a cubby for the cat box, and/or a kitty door if you park the box in the garage.
If the mudroom isn't adjacent to the full laundry, include a stackable washer/dryer to handle the grimiest clothes and gear on the spot.
Accommodate the Business of Living
Post a family bulletin board for notes/reminders and everything else that winds up on the refrigerator.
Build in a drawer or two to catch junk and necessities… batteries, flashlights, menus, odds and ends.
Reserve a prominent space for keys.
Include a charging station for phones, games, and other devices.
Designate purse storage to allow for easy switches.
Create a pet station to corral towels, leashes, toys, scoopers, etc.
Consider space for "grab and go" supplies like sunscreen, tissues, flashlights, extra scrapers.
Make Room to Maneuver…Or walk in with the dogs!
Factor in enough floor area for your family/pets to comfortably come in together and shed coats/gear without crowding.
Accommodate "stuff" as well as people; consider the size of what you carry through the mudroom (groceries, boxes, oversized bundles of paper towels, etc.).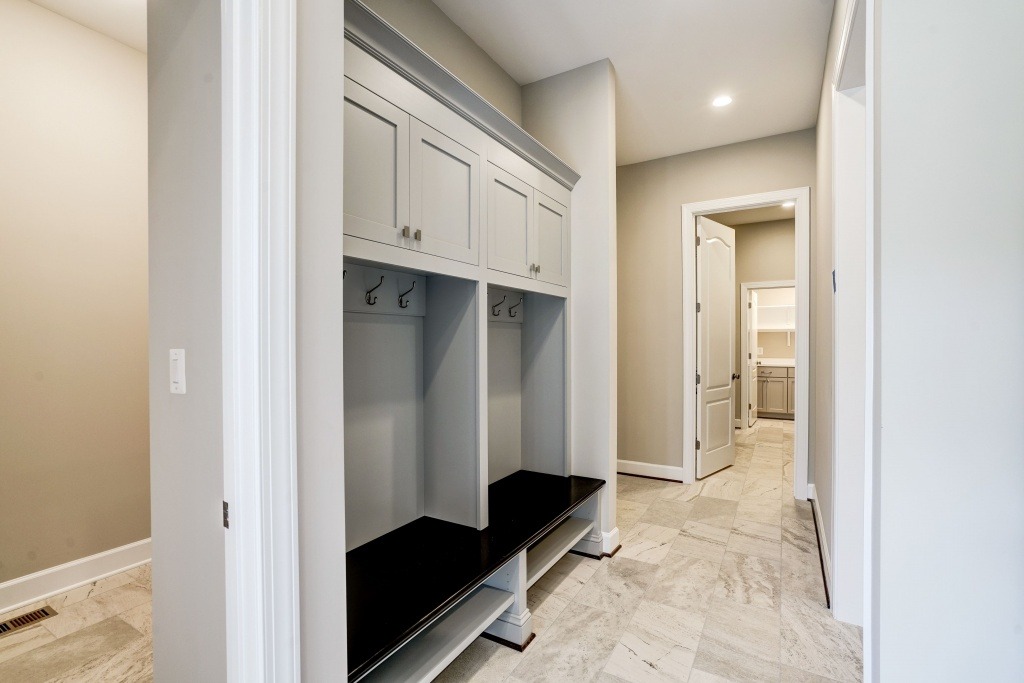 About Gulick Group, Inc.: Established in 1987, Reston-based Gulick Group has developed communities throughout Fairfax and Loudoun Counties, including One Cameron Place and Newport Shores in Reston, The Reserve in McLean, Autumn Wood, Grovemont, and the three Riverbend Communities in Great Falls, Red Cedar West in Leesburg, and Wild Meadow in Ashburn.