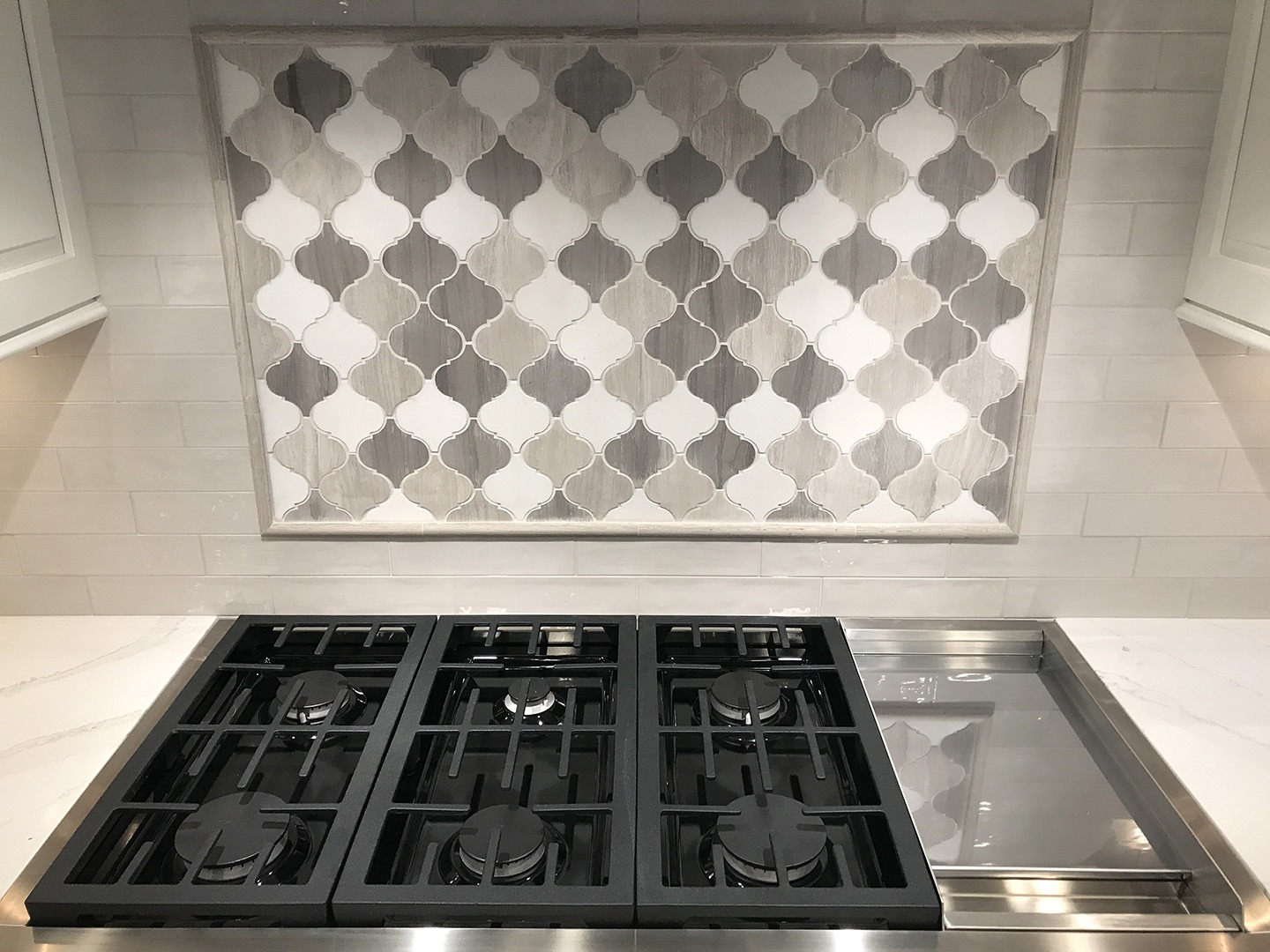 There are more tile choices than ever, from bold patterned concrete to rainbows of porcelain and glass, or natural stone in myriad finishes, shapes, and sizes. Decorative impact is a major driver for many homeowners, of course, but there are other things to factor in when selecting your tile: function, installation, and safety/comfort. Below are some tips to consider.
Design
In main living spaces, tile is usually chosen to complement the overall design, rather than serving as a focal point. Neutrals, texture, and subtle patterns add enduring appeal.
A bold color or dramatic pattern can work well in small doses, such as a kitchen backsplash or an accent behind a range, but might overwhelm in a larger area.
An unusual or colorful tile can bring fun to a small space, such as a powder room or laundry.
If you prefer a very tight grout line, work with your builder/installer to ensure that chosen tile is very consistently sized (such tile is usually labelled "rectified"). Some large format tiles require a minimum of 3/16" grout lines.
Function
Textured tiles can catch debris and can be hard to clean, might not be appropriate for backsplashes (especially begin the burners where splashing is most likely)
Glass tiles are beautiful for low-wear areas, such a bathroom walls, but they may crack on a high-traffic floor and are prone to scratching.
Porcelain is harder, denser and less porous than ceramic, making it good for high-traffic areas and outdoors. Unglazed porcelain won't show wear or scratches, while glazed porcelain may.
All stone tile requires periodic sealing, and tile grout lines also need sealing to keep floors looking new.
Marble and slate are more porous that granite and soapstone, demanding more frequent sealant treatment to stay stain- and humidity-resistant.
It's important to choose impermeable tile for areas with water exposure, like showers, kitchens, and mudrooms.
Installation
Some natural stone tiles, i.e. marble, are significantly thicker than other flooring once underlayment is added, so if you plan on putting it in a home plan how you'll minimize the transition from the thick natural tile to the surrounding floor of other materials.
If you're adding a tile floor where there was previously wood or vinyl, it will usually require an underlayment for a flat, rigid surface; that, along with the adhesive/mortar and tile itself can result in a significant difference in floor height from one room to another.
Floor joists are intended to flex, while tile is rigid. It's important to ensure that tile is laid with the long side perpendicular to joists. Stone has less tolerance for deflection than ceramic tiles and very large format tiles are more prone to cracking.
If there is particularly concentrated loading on a floor (such as a grand piano, or sectional sofa with high seating capacity), it could also crack a tile floor. In some cases. It might be necessary to reduce the space between joists and provide added structural support.
If you want a pattern using small tiles, be aware whether the tiles you choose are affixed to a mesh backing, versus tiles that must be laid individually, as the latter is significantly more expensive to install.
Safety and Comfort
Some floor tiles are slippery when wet–particularly untreated marble and high gloss tiles. Large tiles are also more slippery than smaller ones, as more grout lines help add traction.
Textured tiles can make the floor less slippery but may be harder to clean.
For comfort, add area rugs and anti-fatigue mats for long stretches of cooking/food prep on tiled kitchen floors.
Adding radiant heat under tile floors is worth considering in frequently used spaces like baths.
About Gulick Group, Inc.: Established in 1987, Reston-based Gulick Group has developed communities throughout Fairfax and Loudoun Counties, including One Cameron Place and Newport Shores in Reston, The Reserve in McLean, Autumn Wood, Grovemont, and the three Riverbend Communities in Great Falls, Red Cedar West in Leesburg, and Wild Meadow in Ashburn.