Alternatives to Hardwood Flooring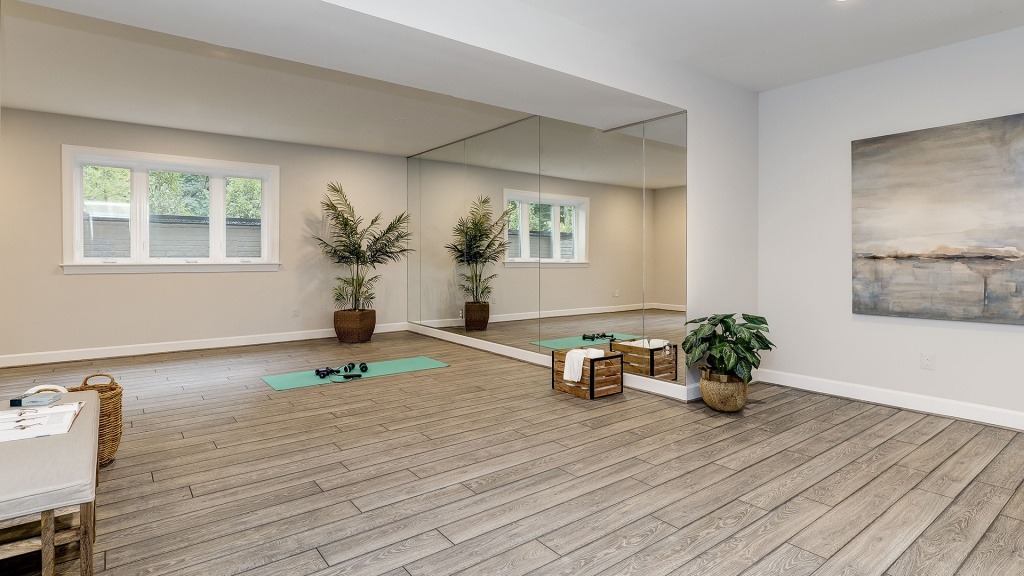 While hardwood flooring still reigns supreme in many areas, it is worth considering the pros and cons of other options as you compose the finish palette for your home.
Moisture-Resistant Faux Wood
Home areas prone to moisture or water exposure, particularly basements and mud rooms, require water-resistant flooring. Several products mimic the look of hardwoods, including luxury vinyl sheet flooring. Newer sheet vinyl is far more attractive than old versions, and matching trim is available. It's water resistant and easy to maintain but doesn't feel like wood underfoot. Wood grained tile looks good in small areas like a wet bar or mudroom. However, the size (typically 6-8 inches across and 24 inches long) is a dead giveaway in larger spaces.
Softer Flooring for Gyms and Playrooms
Flooring in a home gym or playroom needs to be tough enough to withstand the wear and tear associated with heavy exercise and floors that offer cushioning are popular for their comfort and sound absorption qualities. Rubber tiles or sheets are durable, provide good "bounce", and are antimicrobial since they don't absorb water. Soft PVC vinyl flooring is durable but doesn't offer as much shock absorption for high impact movement.
Foam interlocking tile for gyms or playrooms are less durable than rubber, so they aren't great for very heavy equipment. However they offer more cushioning and temperature insulation, good shock absorption and are available in a variety of fun colors.
Some homeowners like to use cork for play spaces, since it is comfortable, sound absorbing, and has natural insulations and fire resistant properties. It is less expensive than hardwood, but must be resealed very 5-7 years, and can be damaged by heavy furniture.
High Style Alternatives
Natural stone is beautiful, durable and classically elegant. It can be striking in a foyer and luxurious in a bath. It may also be costly and require structural adaptations to support its weight and thickness. Tile's coolness underfoot is appealing in summer and, when paired with radiant heating, it provides cozy, cost-efficient heating. Polished stone is very slippery when wet, but honed, tumbled or brushed surfaces offer good traction. Slate, marble, travertine and granite are popular choices. Marble is hard and is easier to refinish, while travertine is relatively soft, and granite is porous and must be sealed more often. With any polished stone product, you can expect it to need refinishing fairly regularly when used in high traffic areas.
Concrete floors are gaining popularity in modern homes. They may be stained, polished, or scored for a wide variety of colors and decorative finishes. They can create a seamless flow between the interior and exterior, and work well with radiant heating. Concrete is great at helping control allergens, since there are no crevices for dust and other allergens to hide, and the surface is relatively impervious. Like stone, it may require special underlayment and structural reinforcement to handle the weight.
About Gulick Group, Inc.: Established in 1987, Reston-based Gulick Group has developed communities throughout Fairfax and Loudoun Counties, including One Cameron Place and Newport Shores in Reston, The Reserve in McLean, Autumn Wood, Grovemont, and the three Riverbend Communities in Great Falls, Red Cedar West in Leesburg, and Wild Meadow in Ashburn.