Extend Your Outdoor Living Season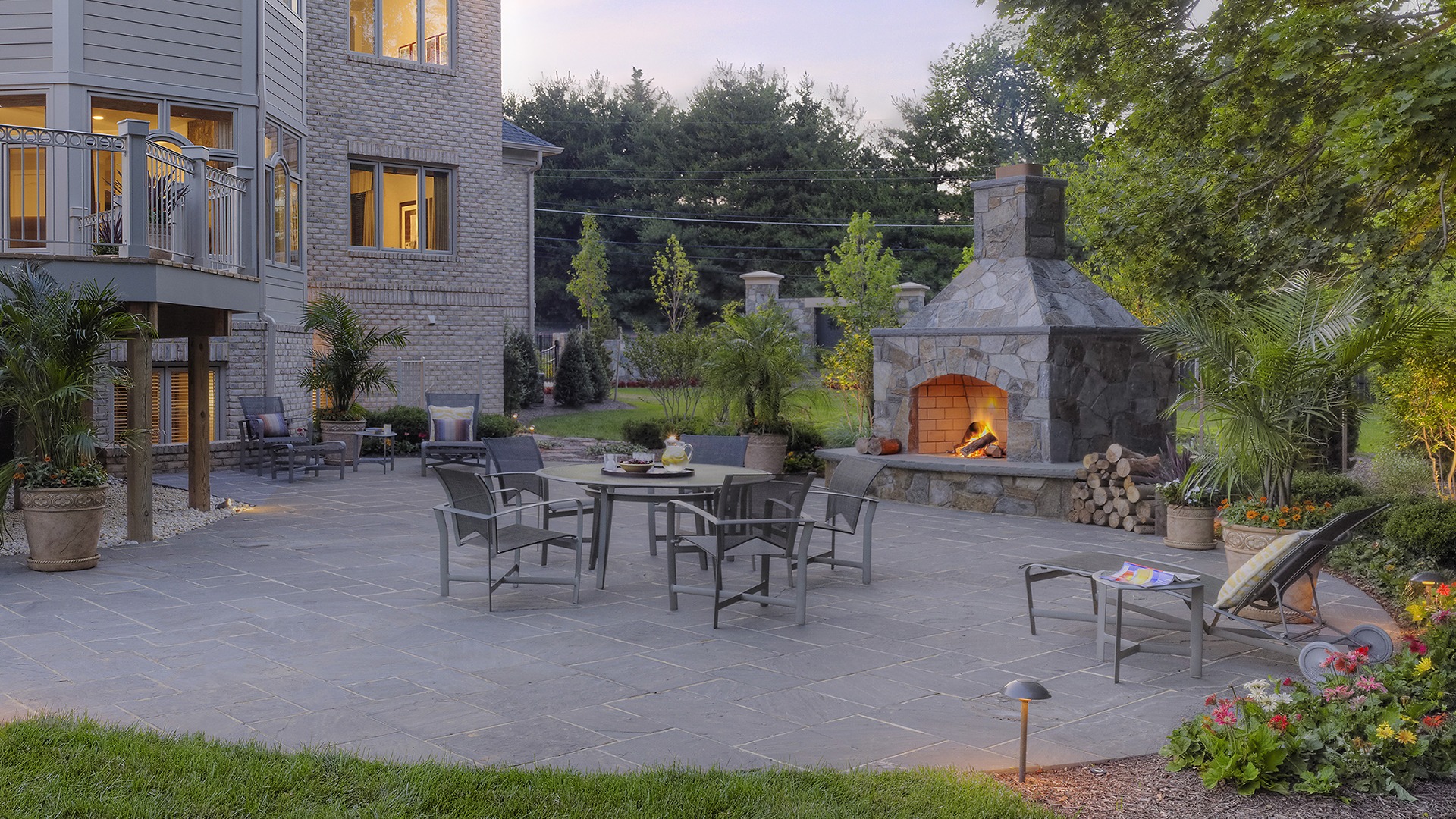 With way too much indoor time over the past 18 months, many families enjoy outdoor entertaining, dining, and just relaxing in the cooling fall weather. Heating outdoor living spaces is a great way to enjoy them longer. There are many different options that fall in three basic categories: fireplaces, fire pits, and outdoor heaters.
Masonry Outdoor Fireplaces: These can be a beautiful focal point and have a certain gravitas. The best of all worlds is a wood-powered fireplace with a gas starter, to easily enjoy a crackling fall fire and its smell and ambiance.
Pros:

With fire contained on all sides, these are safer than fire pits.
The heat radiates out while the chimney carries smoke up and away from your family and guests.
Wood is inexpensive, easy to get, and renewable.
Wood usually provides more heat output than other fuels.
Gas provides instant fire and heat and is clean burning.
With proper construction, venting, and a fire screen, they can be used on a porch or a covered outdoor kitchen.

Cons:

Cost; masonry is expensive, and including a gas line adds to the expense.
May block views of your garden and yard (which might be a pro depending on the situation).
Limited seating near the warmth (unless double-sided).
Wood burning fireplaces require regular ash removal and annual chimney maintenance.
Fire Pits: Like fireplaces, gas/propane and wood models are available, and there are many portable versions as well as permanent installations. Because of the open flame and potential sparks, fire pits shouldn't be used when there is fire danger (during drought), although fire screens can improve safety. Using seasoned firewood in small, hot fires is safest for wood-burning models and the pit should be deep enough that flames are largely contained.
Pros:

Can be much less expensive than a fireplace (especially for wood-burning).
Don't limit sightlines.
Provide more seating space around the fire.
Gas models require no cleanup, provide instant heat, and are clean burning.
A masonry bench or barrier is good for seating (after the fire dies down) and to keep people and pets away from the flames.
Do-it-yourself versions are practical and inexpensive.

Cons:

Open flame is more dangerous (particularly large fires).
Portable versions are prone to tipping and degradation if not well-constructed and anchored, making wood-burning portables the most dangerous heating option.
Gas versions typically burn more fuel than a fireplace due to the open flame.
Require a large area of nonflammable surface beneath them (150-500 square feet; i.e. a patio).
Can't be placed close to any flammable material (overhanging branches, nearby shrubs, or structures).
Using the wrong materials for do-it-yourself is extremely dangerous: rock and blocks that aren't fire-rated may explode when overheated; regular brick will disintegrate over time.
Good lighting is important to avoid tripping hazards.
Proper drainage is important, and drains must be kept clear.
Outdoor/Patio Heaters: These can be gas/propane or electric powered and come in fixed and portable models. For larger outdoor spaces, you may need multiple heaters—it depends on how much space you want to heat, and how much you want to raise the temperature. The fuel choice is a trade-off: electric can cost more, depending on the electrical rates, and electric heaters may be slower to heat up; they also must be positioned near an outdoor plug. Propane tanks are more expensive than natural gas, and usually not recommended for covered spaces. Gas line installation drives up the price for gas models.
Pros:

If properly installed (i.e., anchored or weighted), they are generally safer than a fireplace or pit, with no sparks.
Better temperature control than other options.
Can heat a larger space by using several.
Some models include lighting.
Some models can be used on a covered porch.

Cons:

Usually designed for function, rather than decorative appeal.
Tall propane patio heaters are top-heavy and must be properly anchored.
Some models must be covered or taken inside when not in use.
Heaters should be cleaned at least yearly of debris that might cause a fire.
Cords must be protected and out of the way of foot traffic.
When used properly, any of these options can safely extend your family's outdoor enjoyment. Just remember:
Never operate an outdoor heating source unattended and keep fire extinguishers close by.
Dispose of ashes carefully; hidden embers can ignite long after the fire seems to be out.
Use less flammable furniture (preferably metal) near open flames, and keep cushions, towels, and other fabric away from the fire.
About Gulick Group, Inc.: Established in 1987, Reston-based Gulick Group has developed communities throughout Fairfax and Loudoun Counties, including One Cameron Place and Newport Shores in Reston, The Reserve in McLean, Autumn Wood, Grovemont, and the three Riverbend Communities in Great Falls, Red Cedar West in Leesburg, and Wild Meadow in Ashburn.