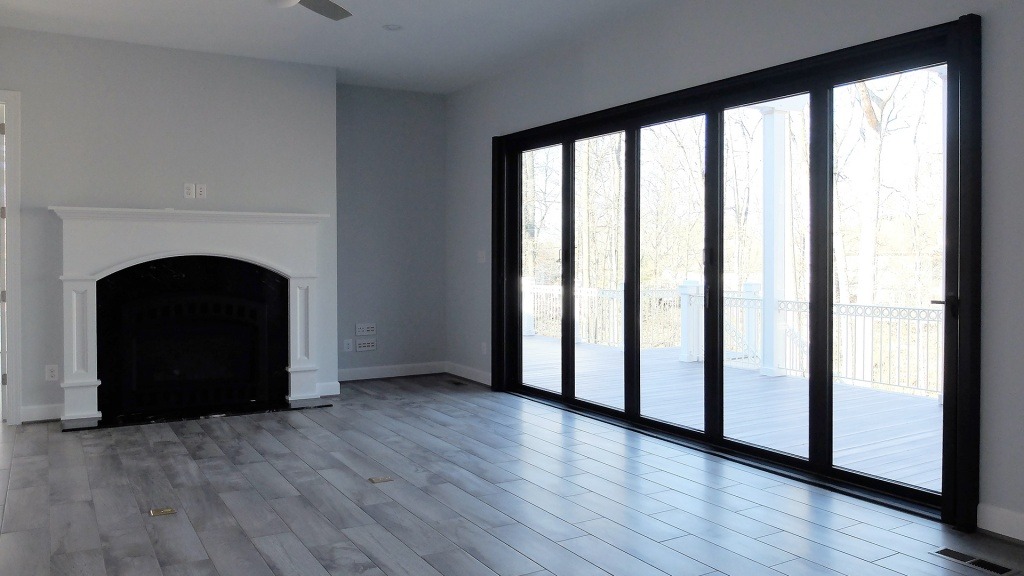 A glass wall is a gorgeous design feature that infuses a home with light and can open it up to a great view or prized outdoor living areas. Except in rare high-end custom homes, a glass wall is not literally a wall of glass; it's typically a wall set with large windows and/or oversized doors that open to the outdoors. If access and viewscape are the goals, there are several choices for functional, large glass doors, sometimes known as scenic doors, panoramic doors, or even moving glass wall systems.
Traditional Sliding Doors are like those commonly used for patio access. One door slides over the other, so only one side can be opened at a time. These are by far the most affordable, but can provide similar drama to the higher-end choices.
Stacking Sliding Doors have multiple panels to span an opening. They may gather in the middle or to one side, with several panels stacking over one another for a wider opening. They tend to be lower maintenance and more cost effective than accordion doors.
Pocket Doors slide into the walls, affording a large opening—but also requiring enough wall space to accommodate them when open (and stacked). This can create the "clean" look often desired in more contemporary aesthetics.
Accordion Doors or folding doors have a number of glass panels that fold accordion style from either side or the center. They provide a dramatic effect but are more expensive than sliding options and can be prone to maintenance issues. They take longer to close, so more water might make its way in during an unexpected storm. When closed, they have more vertical stiles (the vertical part of the frame) between panels, so the view isn't as clear as with large sliders.
Roll-up Overhead Doors (AKA "garage-style" doors) are sectional glass doors that retract overhead. Often used in commercial settings like restaurants, they are also showing up in residential interiors, particularly for opening a home to a pool or outdoor room. They can bring a contemporary, industrial or artistic vibe to a space, but the framing around the panes visually chops up the view more than other options.
There are some practical considerations for a moveable glass wall. How often will you really open your home to the outdoors? Some owners make the investment in scenic doors, only to find that they use them once or twice a year—or once or twice, period. How tolerant are you of the things that come along when you bring the outdoors in? The climate comes with the outdoors, be it heat, humidity, sudden showers or cold air. You could also invite in pollen, leaves, dust, insects, and possibly a stray skink or other wildlife.
A shaded overhang can help with heat, and you could open your home to a three-season screened room to keep out critters and larger debris. There are screens available for sliding doors, but the effect is not very different from opening a large window.
Ultimately, choosing a moveable glass wall is a lifestyle and family decision. If you love and use the indoor/outdoor fusion enough, it's worth the investment. And whether fixed or moveable, a glass wall can be one of the most enjoyable design features for your home, and will set it apart.
About Gulick Group, Inc.: Established in 1987, Reston-based Gulick Group has developed communities throughout Fairfax and Loudoun Counties, including One Cameron Place and Newport Shores in Reston, The Reserve in McLean, Autumn Wood, Grovemont, and the three Riverbend Communities in Great Falls, Red Cedar West in Leesburg, and Wild Meadow in Ashburn.