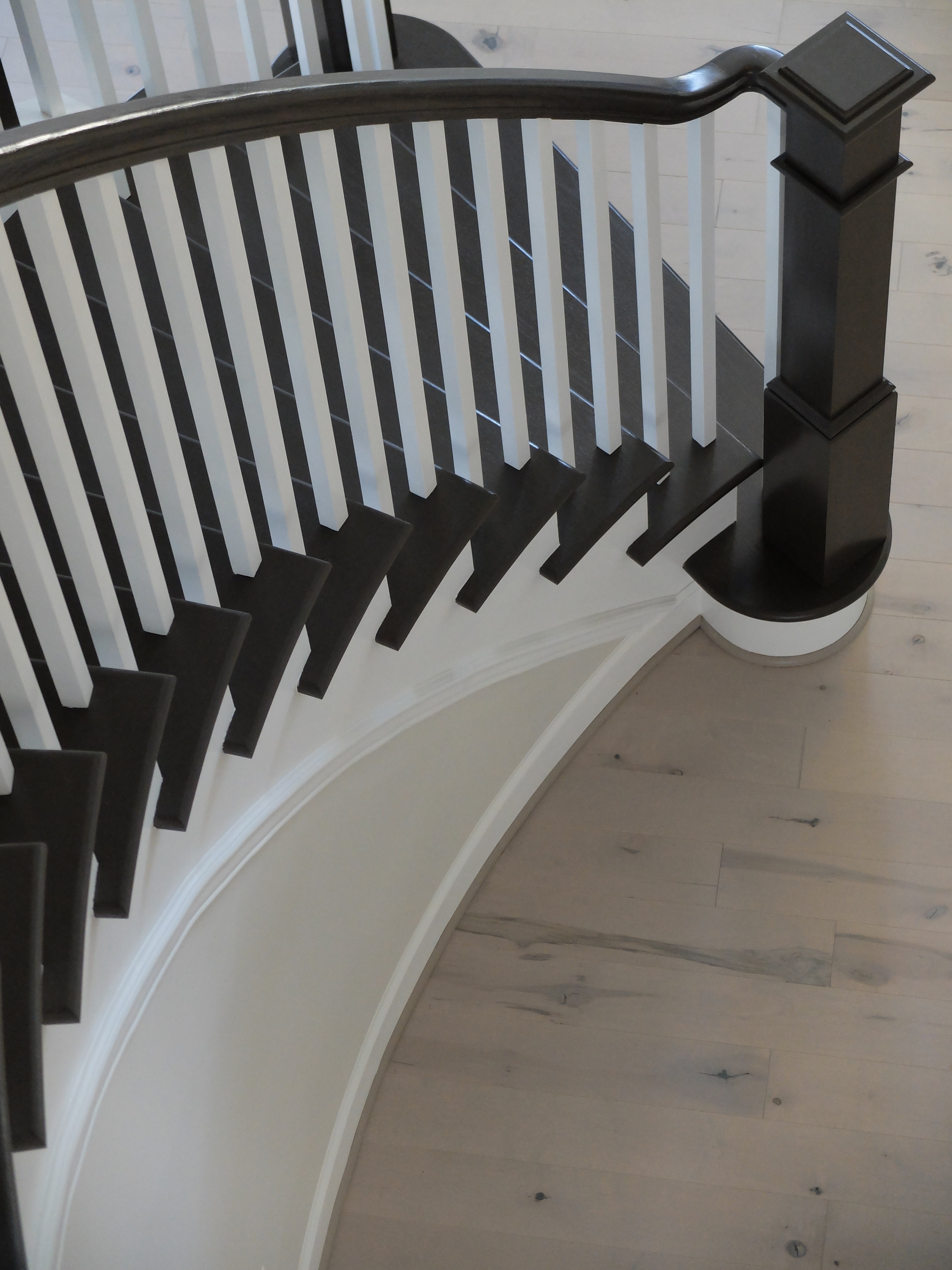 Stair rails may seem like minor elements, but they are important to both your home's safety and its signature style. Whether outdoors or inside, a stairway is a focal point that helps establish the home's design aesthetic and is an opportunity to add a personal touch.
Stair rails usually include several elements:
Balusters are short decorative posts, pillars or columns arranged in a series to support the top rail; they may also be called spindles or pickets. They may be attached to a bottom rail that runs parallel to the top rail or directly to the stair treads.
Posts are vertical pieces that support a railing and provide strength. You often see larger posts spaced evenly between a series of pickets or balusters.
Newels are types of posts that are typically more substantial, may be decorative, and are located at the head or foot of a flight of stairs.
A rail is a horizontal bar, typically fixed on posts, that forms the top or bottom of a railing. The top rail is also known as the cap; it's the section you grab for support.
Stair rail height and the spacing between pickets or balusters is determined by code for safety purposes. While codes vary by locality, stair rails are usually required for any stairs that include more than two or three steps. Proper rail height provides hand support to prevent slips (or a person from tumbling over a rail). Spacing between pickets is determined, in part, to prevent a child's head from becoming trapped between and is typically specified by code.
Material choices and shape are key to style. Wood newels and pickets are traditional, particularly if the pickets have decorative turning and are stained rather than painted. Wood rails with simple painted pickets or metal pickets are more typical for transitional styles. Contemporary farmhouses and craftsman-style homes often feature square or chunky pickets that are usually painted. Owners can customize the effect by choosing more than one type of picket. Metal pickets, newels, or posts come in a variety of styles, and can make for a clean lined or ornate, and often expensive, railing treatment. Single piece, custom wrought iron is the top of the line and most often seen in the most expensive custom homes.
If you're replacing a stair rail during remodeling, it's important to make sure the post and picket pattern can be evenly distributed across the steps, or the result will be unbalanced and look odd. Determining proper spacing can be tricky, so it's smart to call on a professional for design and installation.
Finishes are also important considerations. In many cases all the components are the same material and/or color as the cap for a clean and cohesive effect. To accentuate the stairway, some owners prefer to mix materials, such as black iron or silvery metal with stained wood rails, or painted newels with metal.
Horizontal stair treatments (which omit the vertical pickets) are popular in contemporary homes. These stair rails may feature horizontal cable or wire with metal poles, or horizontal metal or wood bars between the rails. Replacing pickets with clear or opaque panels is a very clean look, and in some cases, handrails are recessed into the wall for a sleeker look. Extreme contemporary designs may omit the rails entirely, but this is dangerous, especially for children and pets, and often not allowed depending upon building code.
Myriad options can make choosing stair rail components challenging. For a timeless style, simple is better. Delicate or ornate turned pickets with stained wood (particularly in maple tones) can look dated, evoking the 80s. While horizontal treatments are trending now, they may eventually feel dated in a transitional or more traditional home (though they may remain appropriate to contemporary homes). Stair rails are not the first thing that gets replaced when people refurbish homes, so choosing a look with staying power is important.

About Gulick Group, Inc.: Established in 1987, Reston-based Gulick Group has developed communities throughout Fairfax and Loudoun Counties, including One Cameron Place and Newport Shores in Reston, The Reserve in McLean, Autumn Wood, Grovemont, and the three Riverbend Communities in Great Falls, Red Cedar West in Leesburg, and Wild Meadow in Ashburn.