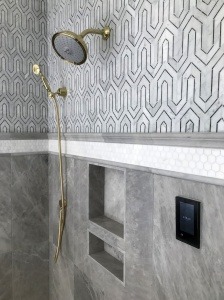 As baths grow bigger, sleeker and more elegant, showers are following suit. Once simple, now showers often include multiple fixtures carefully personalized for the owners' therapeutic needs and dramatic tile accents to express their personal style. If you are about to build or remodel, here are a few tips to ensure your new shower is as comfortable and functional as it is stylish.
Bigger is not always better, as smaller may be cozier. Oversized showers are intended to appear and feel luxurious… but thanks to large volume and expansive areas of tile or stone, they can also feel (and be) cold. Even with multiple shower heads, it's hard to generate enough heat to keep a large shower space warm. Aim for a good balance between spaciousness and the utility of a hot shower.
Carefully place the amenities you need; don't abandon them for the sake of clean lines. Spare designs may eliminate shelves or niches to hold needed bathing, haircare and shaving supplies. You can have a niche built into a wall that isn't the focal point, if you want to feature an unbroken, dramatic wall of stone or a decorative tile pattern. Be sure any niche slopes appropriately so water doesn't leak into the wall.
Benches can be sleek and practical and provide an opportunity for a style statement—use a tile detail on a tiled bench or add a floating stone bench mounted on the wall for a more "spa-like" feel. They're great for shaving, and extremely helpful for family members with limited mobility or a temporary injury.
Marble and other polished stones are popular for their clean effect. Make sure shower floors are slip resistant and comfortable under foot.
Choose shower fixtures that meet your specific needs and preferences. Don't let style detract from features you value, such as a handheld shower to rinse out shampoo and conditioner. Consider ease-of-use over appearance when choosing the locations for plumbing controls. Going deep into the shower to turn on the water is inconvenient, even if hiding the controls looks better.
Be wary of features likely to age quickly. An example is exposed shower plumbing trending for contemporary and contemporary farmhouse baths. If you want to put the piping behind the walls later, you may face expensive retiling or installation of new stone surfaces along with plumbing costs.
Embrace smart design details. A square or rectangular drain is in keeping with a shower's straight lines. Channel drains are another clean-lined option.
Eliminating the shower threshold or lip at the floor (also known as a dam) is increasingly popular, enhancing clean design and eliminating a tripping hazard. Just be aware that the threshold is your first line of defense if the drain ever clogs. Without it, you may quickly have inches of water flowing into your bath and beyond.
Eliminating the shower door is another sleek option. Like an oversized shower, an open, walk-in shower doesn't hold in heat as effectively. It also lets water and suds splash into the bath, for more cleaning. If you do go with the look, ensure the shower floor is properly sloped and has ample drainage or water will flow into other bath areas.
If you choose to use a plumbing fixture with electronic controls or components, make sure there is a manual option, too. It's very frustrating to be unable to shower while you wait for a repair because a "smart" system fails.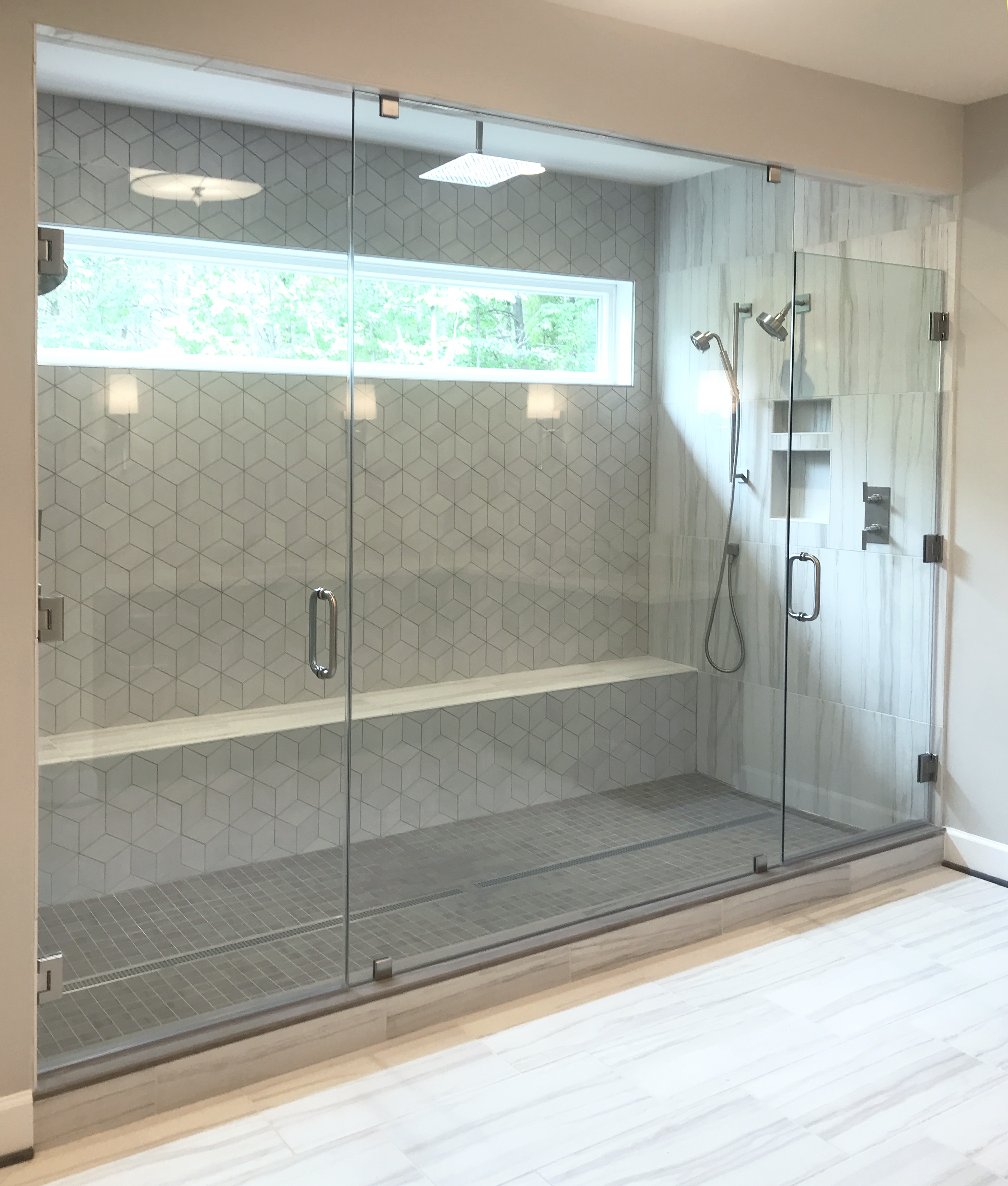 About Gulick Group, Inc.: Established in 1987, Reston-based Gulick Group has developed communities throughout Fairfax and Loudoun Counties, including One Cameron Place and Newport Shores in Reston, The Reserve in McLean, Autumn Wood, Grovemont, and the three Riverbend Communities in Great Falls, Red Cedar West in Leesburg, and Wild Meadow in Ashburn.