Navigating a New Home Build – Building Your Home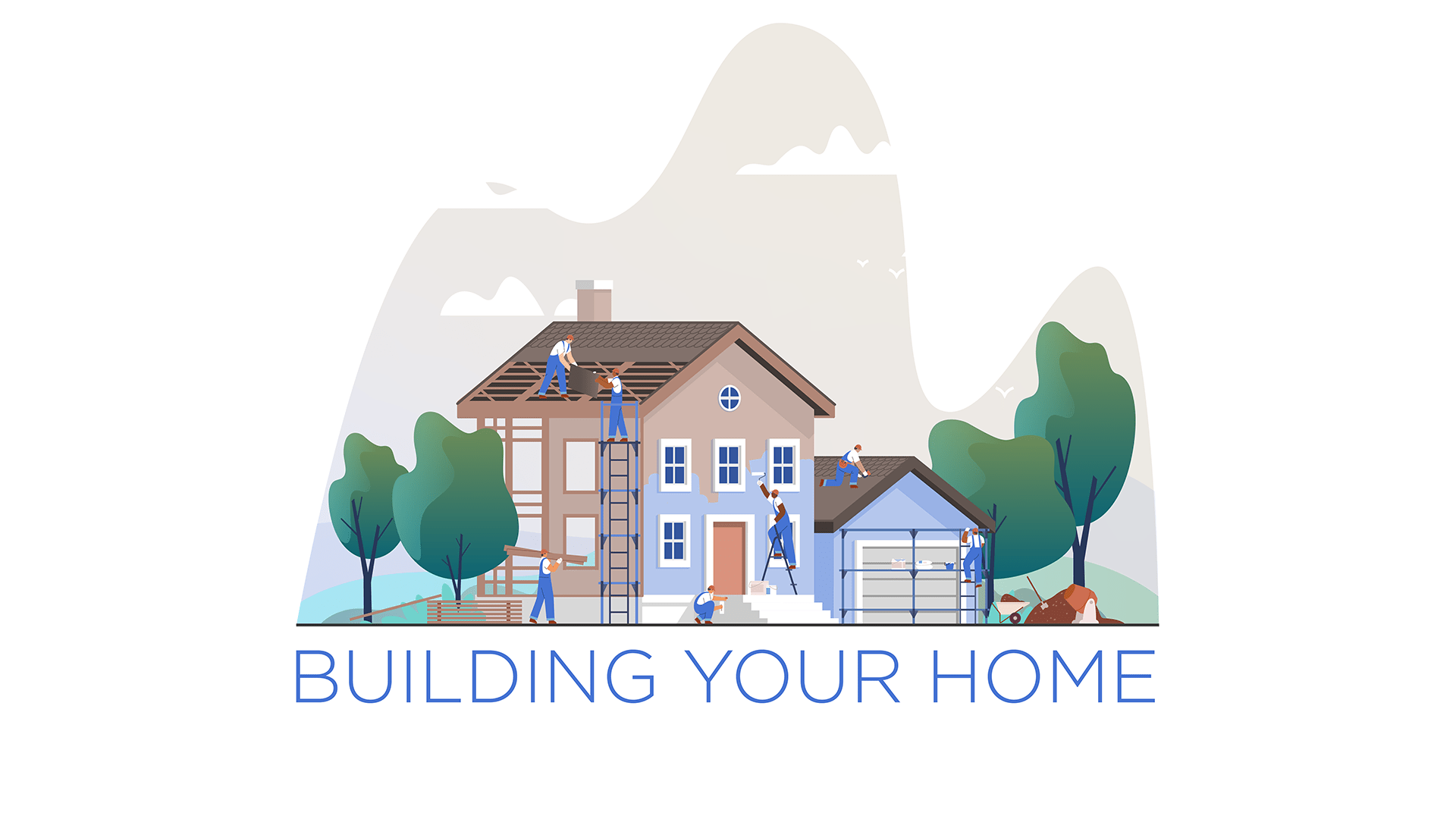 Your house plans are final; selections are made; materials, systems, and appliances are on order; you have a permit and crews are scheduled. This is the most exciting stage for many home buyers, as their home moves from plan to reality.
Building Roles
It's helpful to understand who's responsible for different aspects of the build, and who you should be speaking to throughout the build (hint: it's your sales representative or project manager!).
Builder: Responsible for provisioning, or ordering and coordinating delivery of supplies, fixtures, appliances, and everything else needed for construction. Provides overall planning, coordination, scheduling, and supervision of construction teams, which typically include multiple specialized subcontractors. Reviews progress frequently and carefully inspects all work prior to each formal inspection.
Site Foreman, Superintendent, or Supervisor: The construction manager responsible for ensuring the project stays on time, the right materials/fixtures are delivered, and the work is done properly according to the contracted specifications and building plans. Provides direction to and coordination among sub-contractors. Depending on the stage of the build, the supervisor may not be on site all day, every day, and does not watch over subcontractors continuously as they work. However, the supervisor will review all work as it progresses and ensure that all work is completed properly and require that any deficiencies or errors be corrected in due time.
Sales Representative or Project Manager: Responsible for understanding the contract specifications and ensuring timely communication with the buyers. Conveys any buyer concerns or questions to the appropriate contact and follows up to ensure timely resolution of concerns or issues. Schedules and accompanies buyers on site visits during construction.
Building Inspectors: Local government professionals who inspect key aspects of the construction to ensure they meet safety and building codes and requirements.
Stages and Inspections
There's a sequence of events during every build. It is a staged process, many stages of which include a review by the builder and/or a formal County inspection before proceeding to the next stage. Key construction phases include:
Foundation, which must be poured and inspected before framing can begin.
Framing, or erecting the "bones" of the home: floor joists, subfloors, beams, studs, and roof trusses.
Roofing, windows and waterproofing, to "dry in" the home.
System installation, including plumbing, electrical wiring, heating and cooling equipment and ducting; each of these requires a separate inspection.
Insulation for areas like exterior walls and attics.
Drywall, which is hung, taped, mudded/sanded and primed.
Interior finishes, including doors, trim, stairs/banisters, cabinetry and built-ins, countertops, hardware, plumbing fixtures, lighting fixtures, flooring and painting.
Exterior finishes, including hardscaping, landscaping, exterior trim and painting.
The Buyer's Role in a Safe and Efficient Build
It can be fun and useful for buyers to visit their home occasionally during the build. If you want to document the build as it happens, visiting once during each major stage is a great way to capture the process. Visiting more often can be disappointing, because construction takes time, and you could literally watch paint (or a foundation) dry.
For your own safety, and to avoid delaying your build, there are some simple buyer dos and don'ts.
Do schedule any site visit in advance. Your sales representative or other builder staff must accompany you for your safety, and any visit must be scheduled with safety in mind. A construction site is very hazardous, with power tools, exposed wires, tripping hazards and lack of railings. Show up unannounced and you could be exposed to drywall dust, adhesive fumes and other hazards you're not prepared for. Crews may have to stop or work around you, causing costly delays.
Do take safety seriously. By law, you must wear a hard hat during site visits. Also wear closed toe shoes with good traction, and clothes that you don't mind getting dirty. Don't bring young children or pets, who might dart into harm's way.
Do take advantage of and trust the expertise of your builder's professionals. Your builder's sales representative and supervisor are looking out for you to make sure you receive everything specified in your contract. If you have any questions or concerns, take them to your salesperson or project manager.
Do Request/Schedule any Private Home Inspections before Construction Begins. Some purchasers prefer to schedule an inspection by a professional (private) home inspector when the home is nearing completion, or even prior to drywall. It's generally best to include this stipulation as part of the home contract, as construction usually needs to stop, the home must be cleared out and prepared for any inspection, so private inspections may impact construction and delivery schedules.
Do remember that any changes requested during the build can be very costly, delay move-in, or prove impossible to deliver. Particularly with pandemic impacts on the supply chain, skilled trades, and inspectors, asking for a "small" change can have ripple effects and major cost and schedule impacts.
Don't ask questions or make requests of workers on site. First, you're likely to ask the wrong person, who can't give you a well-informed answer. Startling or distracting a worker using power tools or handling heavy material is extremely dangerous. And any time you interrupt workers (even if they're "on break"), it costs time and money. It is the responsibility of your builder to manage the subcontractors, so any question you have should be directed to your sales representative instead.
Don't panic if a space or feature doesn't look "right" during some phase of construction. A faucet might be installed in the wrong finish, or windows proportions might look odd because you're seeing a work in process. Sometimes errors are made during construction, but they are usually caught by the superintendent and corrected later as time and schedule allows. Further, a space can look very different when finishes, cabinets, built-ins and trim are added. Discuss any questions or concerns with your sales representative or project manage. Be assured that if something in your home doesn't match the plans and specifications, your builder will catch and correct it.
About Gulick Group, Inc.: Established in 1987, Reston-based Gulick Group has developed communities throughout Fairfax and Loudoun Counties, including One Cameron Place and Newport Shores in Reston, The Reserve in McLean, Autumn Wood, Grovemont, and the three Riverbend Communities in Great Falls, Red Cedar West in Leesburg, and Wild Meadow in Ashburn.