Navigating a New Home Build – Walkthrough and Settlement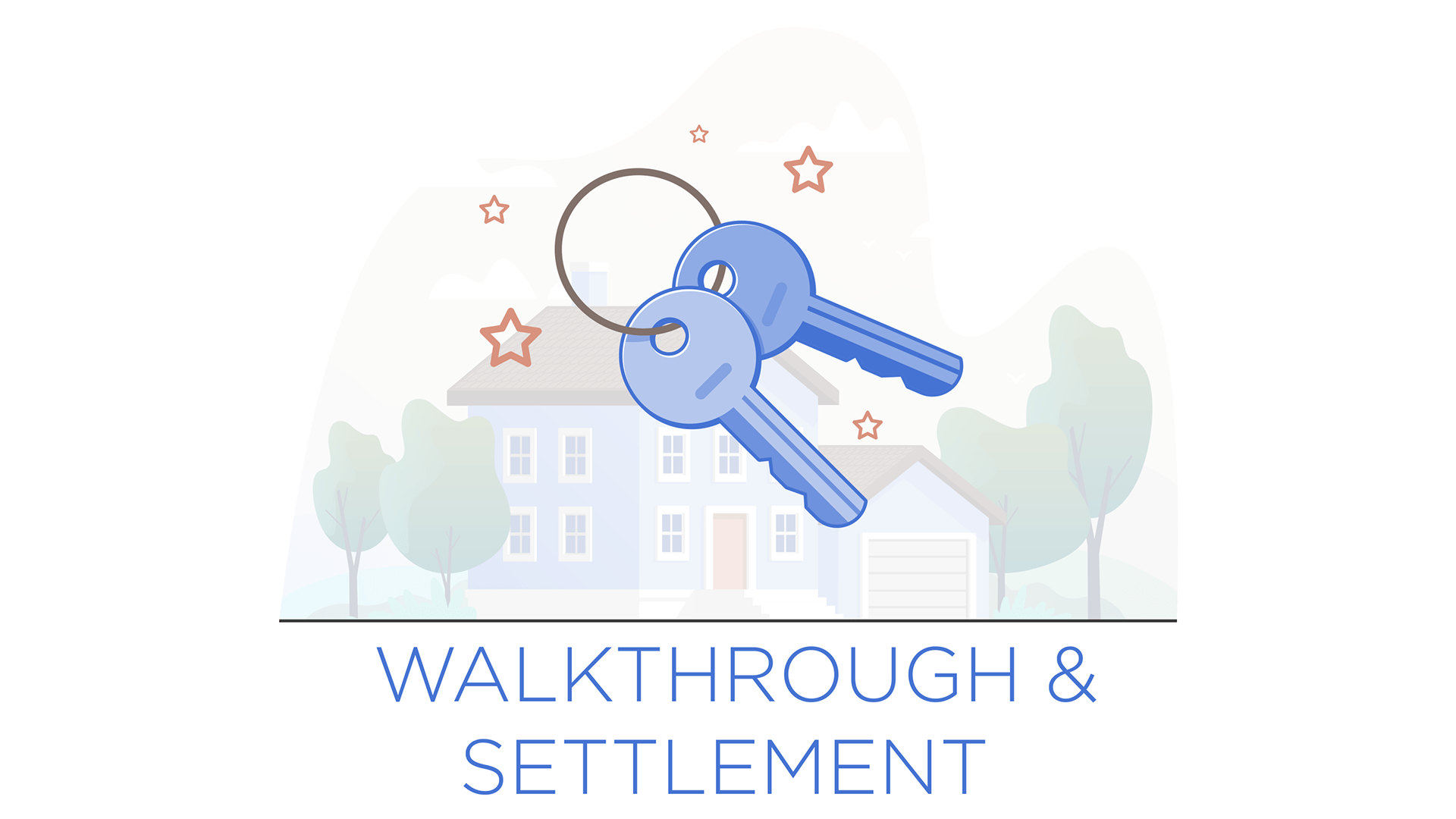 With the build complete, there are two important processes to complete before moving in: a final walkthrough with your builder and settlement.
The final walkthrough provides two opportunities for buyers: a tour and visual inspection to identify any cosmetic issues in the home, and a chance to familiarize themselves with their new home and review systems operation and maintenance with a construction professional. It's important that buyers not confuse the final walk-through with a home inspection. All inspections (from county officials and the buyer's inspector, if any) must be completed in advance of the walkthrough. At the time of your walkthrough, the builder will have completed several rounds of internal reviews and identified any remaining issues or problems.
Normally, builders catch and correct as many minor problems as possible (such as touch up painting and finish repairs) prior to the walkthrough. However, in today's challenging supply chain environment, it's not unusual to have a pending replacement or repair. A chosen plumbing fixture or appliance might be on backorder, requiring the builder to make a temporary substitution to obtain an occupancy permit. A defective or damaged cabinet door may have a long lead time for replacement. The builder should communicate these types of issues at the walk-through and will note them on the list of outstanding items that results, which functions as the builder's agreement to correct those issues in the coming weeks and months. Builders understand and share buyers' natural desire to have everything complete and problem-free at walkthrough, but flexibility and patience may be required in these unusual times.
Another thing to keep in mind is that, in most cases, a buyer has a warranty from the builder on the home generally, and from manufacturers of products specifically. Buyers need not fear that the walkthrough is their last chance to catch a functional issue. If you find something that isn't working once you have moved in it is likely covered under your builder or manufacturer warranty.  It is best to use the walkthrough to identify cosmetic concerns and learn about the home, knowing that you have a year of warranty coverage to identify any small functional concerns.
The builder will coordinate with the buyer(s) to schedule the walkthrough. The builder may be willing to offer some flexibility in timing, but it's important to promptly complete the walkthrough before settlement. Buyers should prepare their questions about home features, maintenance, and the builder's warranty in advance and plan to spend an hour or more walking with the builder's representative through every room and space and around the exterior of the home. The builder will create a master list of all problems observed and provide buyers a copy; buyers can also take notes and pictures if they like.
The builder will demonstrate operation of any unfamiliar controls and safety features, such as shower controls, HVAC operation, and the location and operation of water shutoff valves and electrical breakers. They will also provide information and recommendations on home maintenance. The builder's settlement attorney will transfer a packet with all the appliance and system operating manuals and warranty information to the buyer, along with the home keys, at settlement.
Settlement, also known as closing, is when full payment for the home is made to the builder, and ownership of the home is transferred to the buyer.  Practically for the buyer, settlement involves reviewing and signing forms and agreements pertaining to the home loan, property deed, builder contract and the purchase transaction. Buyers have the right to choose their own settlement attorney, usually long before the home is complete.  Some buyers use the same settlement attorney as the builder, which offers the convenience of a representative who is very familiar with and more likely to be able to answer questions about the builder's processes and warranty. Others choose to hire a separate attorney. In either case, the buyer should ask the attorney for clarification or explanation on any of the paperwork before signing.
You may hold settlement in person at an attorney's office, be provided documents to sign in the presence of a notary public, or sign closing documents digitally. Read each document carefully, with particular attention to dollar amounts specified, and make sure it is adequately explained by the settlement attorney. Make sure there aren't any errors with critical information, such as addresses or names. After a digital settlement, ensure you are promptly provided copies signed by all parties.
Many buyers are eager to move in as soon as possible following settlement. However, it's smart to schedule your move at least 24 hours after the settlement date, in case closing is delayed by loan approval or underwriting or issues with closing documents. Bear in mind that the builder will not release the keys until the sale is recorded and the funding has gone through. The current pandemic-driven uncertainty is also a consideration, requiring more flexibility and care in scheduling.
About Gulick Group, Inc.: Established in 1987, Reston-based Gulick Group has developed communities throughout Fairfax and Loudoun Counties, including One Cameron Place and Newport Shores in Reston, The Reserve in McLean, Autumn Wood, Grovemont, and the three Riverbend Communities in Great Falls, Red Cedar West in Leesburg, and Wild Meadow in Ashburn.