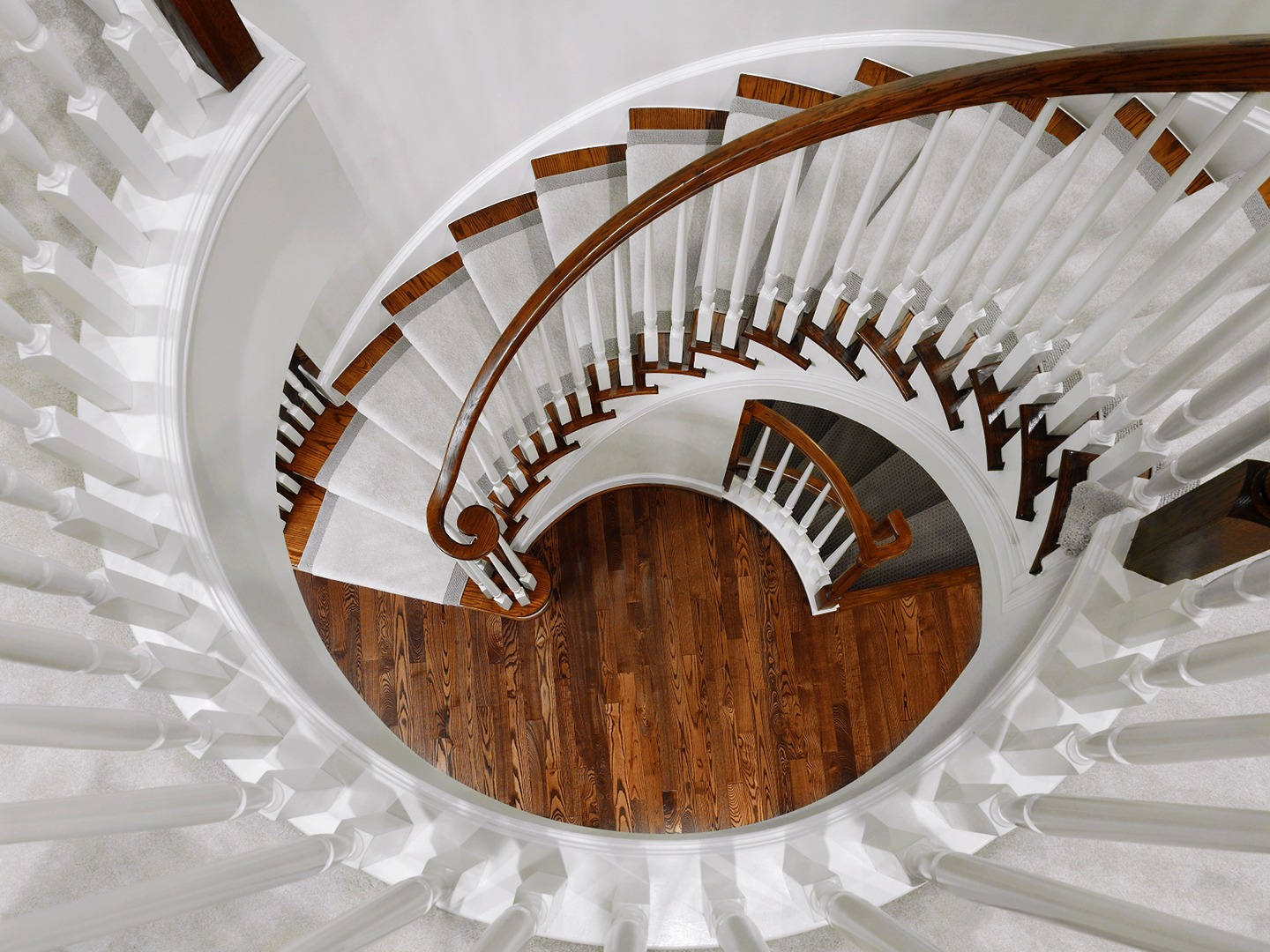 Though they have always been a major architectural feature, with the current emphasis on open concept and soaring ceilings stairs are an even bigger and more prominent design element. Typically establishing the home's style from the entry, a staircase is perhaps one of the strongest examples of the fusion of style with function.
Local building codes set the functional requirements, including the minimum depth the treads (the horizontal part of the steps) must be for safe footing and how high the risers (vertical portion of the steps) must be. Some people feel that lower steps must be easier to navigate, but if the steps are too short, they can actually feel clumsy. Very shallow stairs also waste square footage, because it requires more steps to go up the same distance. The higher the ceilings on a level, the more stairs must exist to get up to the next level.
One pragmatic consideration is to avoid steps or stairs used only for decorative effect, such as steps down to a sunken living room or up to a master bedroom. These treatments are a perpetual tripping hazard and limit furniture placement. It's easy and much safer to create definition and drama with other decorative techniques.
Style and placement of a staircase are major design considerations, because if you change either, you can change the home's layout. Typical stair placements are symmetrical (in the middle of the entry) or to one side, along a wall. A staircase can be open or "floating" (with no walls on either side), partially open (a wall on one side), or enclosed (walls on both sides).
The most basic stair structure is straight. This style requires relatively more space, particularly for high ceilings. A variant is a hanging stair, often seen in expensive, contemporary homes. Only the bottom step and top of the stairs provide visible support. Hanging stairs are expensive to build, and while dramatic, for some people they can feel a bit disorienting or even frightening to walk on or beneath.
Another treatment is a "floating" stair, with no risers and the treads anchored into a wall. These stairs can be open on the "free" side or paired with glass panels or a rail with wires to optimize the wide-open effect. This design increases the open feeling, but can be dangerous for pets and young children, and there is a risk of dropping something heavy between steps and causing injury or damage below.
"Switch-back" stairs include a landing, allowing a 180% turn. These are often seen in contemporary farmhouses. A stairway with three-quarter turns features multiple landings, and is space-saving for homes with extremely tall ceilings.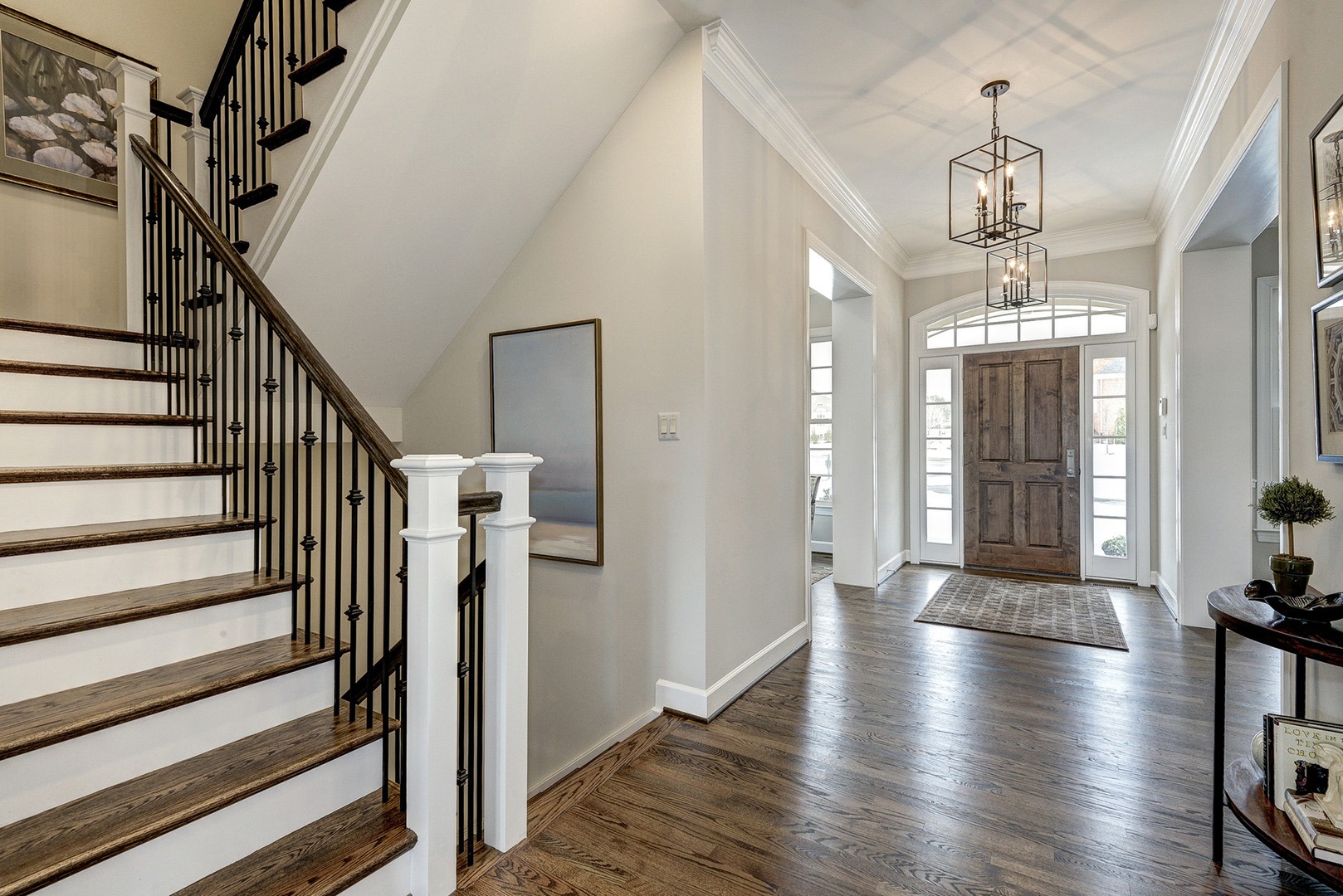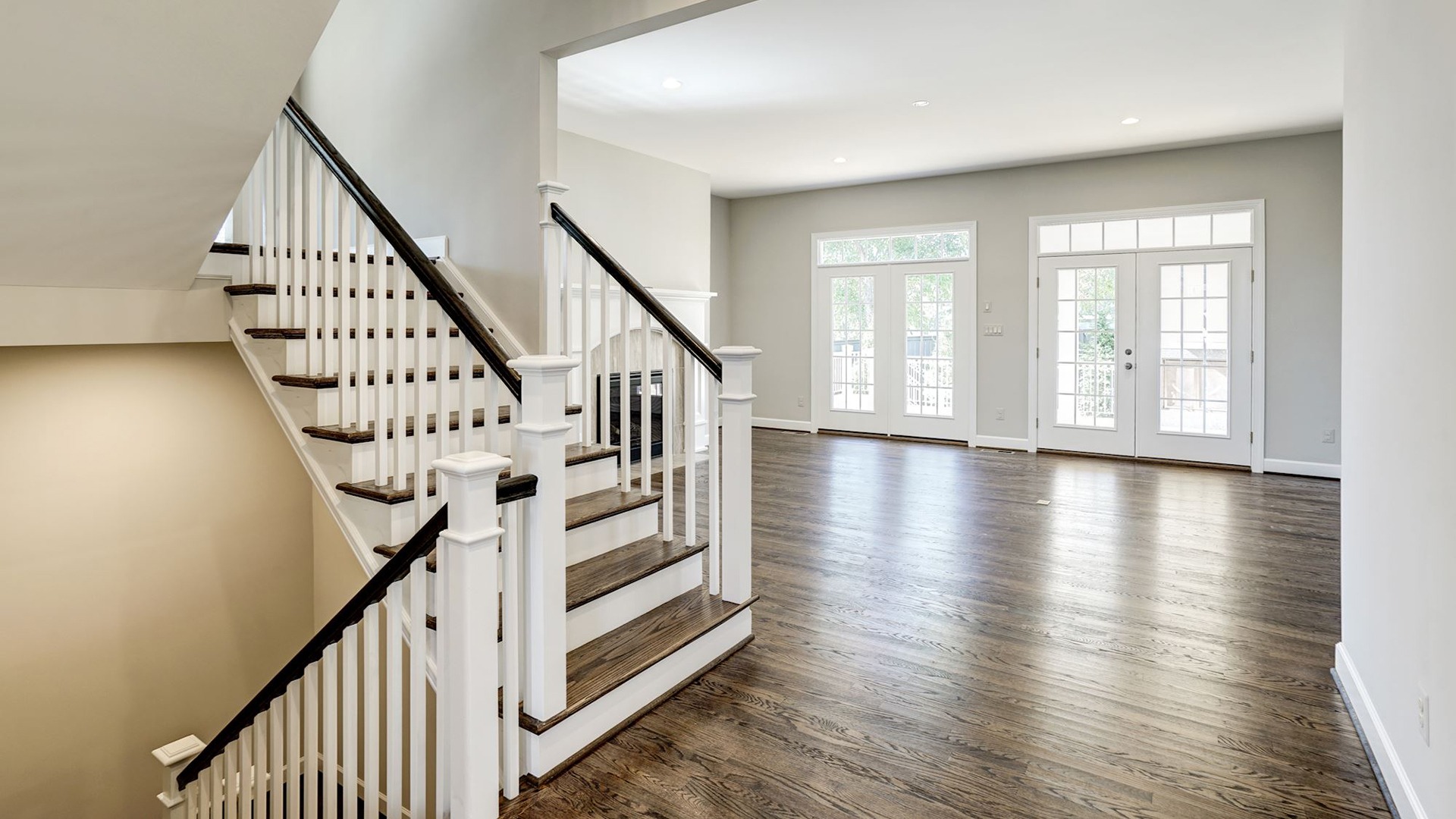 L-shaped stairs can help create a visual barrier between floors for privacy and can be located in a corner to save space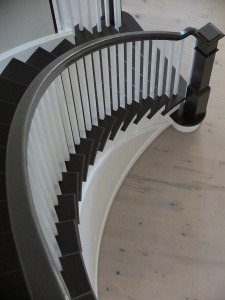 A Gulick favorite, curved stairs are classic, elegant, and dramatic. Curved stair treatments include:
A half-turn stair which turns 180% with curved treads.
Clamshell stairs, with two sets of curved stairs. Delivering big impact, this style is suitable for a very large home (say 12,000 square feet or more). Getting the spacing correct requires a huge foyer, so the stairs don't feel crowded.
Bifurcated stairs, with two sets of curved stairs that merge into one larger single stairway, is another high-end, space-hungry option.
Spiral stairs can be designed with round or oval spirals, a square spiral, or even a heart-shaped spiral. Highly decorative, spiral stairs are typically used as a secondary staircase, such as providing access to a loft above a bedroom. They provide one-at-a-time access and limit transporting furniture or other large items. While the style is space-saving, it's best to make a spiral staircase at least 4 feet across for easier, safer navigation.
While decorative details are nearly infinite, durability is a key consideration because stairs are used heavily daily. A classic choice is wooden treads, with either matching or painted risers. Painted risers are practical in an active household, because they can easily be repainted after scuffs or dings. Stone and glass stairs are beautiful and durable but can be slippery and addressing any damage may be costly.
Gulick 's belief that form need not be compromised by function is at the heart of our approach to entry and stair design. We work closely with owners to envision and execute stairs that are both striking and eminently practical for all the ways their families live.
About Gulick Group, Inc.: Established in 1987, Reston-based Gulick Group has developed communities throughout Fairfax and Loudoun Counties, including One Cameron Place and Newport Shores in Reston, The Reserve in McLean, Autumn Wood, Grovemont, and the three Riverbend Communities in Great Falls, Red Cedar West in Leesburg, and Wild Meadow in Ashburn.