"Classic" Tudor style was an early twentieth century adaptation of key features of 15th and 16th century British homes. The hallmarks of this traditional style are a steeply pitched roof (often slate) with multiple overlapping front gables; tall windows with multiple rectangular or diamond-shaped panes; and an upper façade typically embellished with stucco and faux half-timber. Doors were often arched and set off by heavy stonework against a brick lower facade. Interiors were also distinctive, including heavy exposed beams, dark paneling or wainscotting, and heavy wooden trim on stairs.
There is a romantic and even fairy-tale appeal to some of these homes, which were first built in the 1910-1940s time frame.
Gulick Group is using elements of Tudor design as inspiration in the clean, "Contemporary Tudor" elevations are we are designing for Willow Hill. We have pared away the heavy faux decoration and brightened the façades with clean lines, natural materials, and light colors—but retained the striking roofline and prominent multi-paned windows. We look forward to revealing them early in 2021.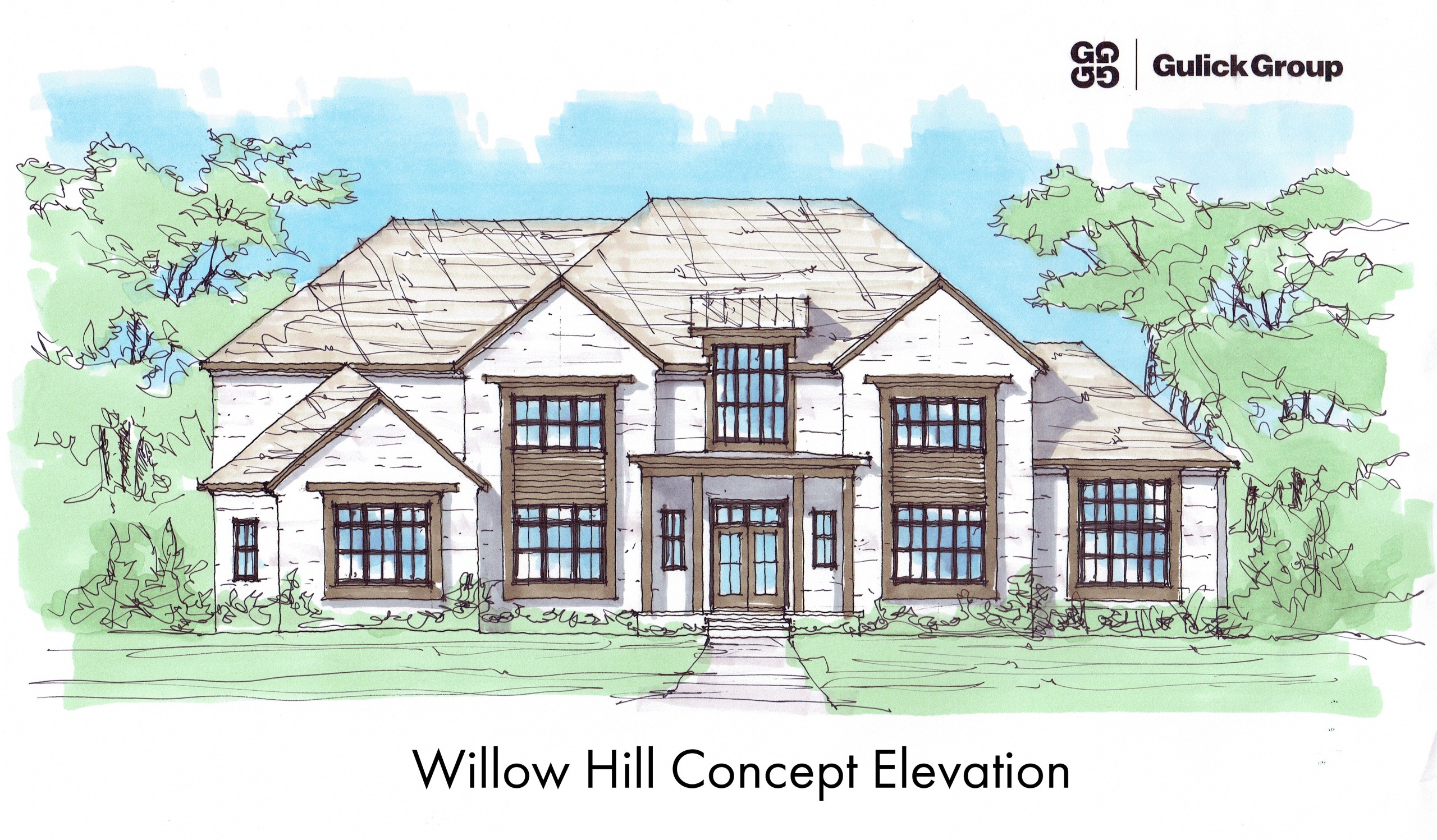 Along with the new elevations, we're focused on finding clean-lined elements for each home's interior, being careful to keep the homes and the whole community inviting. We're including softer/warmer neutral tones rather than solely white exteriors. Interiors feature the light-filled, open-concept floorplans that work for today's families. We're working through the finishing touches, such as how to give curved stairs a clean, contemporary edge; selecting cabinets and trim details; and pondering flooring options in various spaces.
From siting and landscaping, through meticulous attention to features and fixtures, we believe the resulting homes will be new classics that merge enduring good design with well-planned functionality to enhance each family's enjoyment of their homes.
About Gulick Group, Inc.: Established in 1987, Reston-based Gulick Group has developed communities throughout Fairfax and Loudoun Counties, including One Cameron Place and Newport Shores in Reston, The Reserve in McLean, Autumn Wood, Grovemont, and the three Riverbend Communities in Great Falls, Red Cedar West in Leesburg, and Wild Meadow in Ashburn.