Always considered the heart of the home, modern kitchens are being designed differently to allow for better communication between the rooms your family uses most. It is important to consider the kitchen carefully, as practical kitchen elements have traditionally required wall space, which can conflict with the "open concept" most popular in today's homes. The "galley" (or "u shape") kitchen, with an island facing into the morning room or family area, is often the most workable solution, supporting a fluid open space that encompasses cooking, dining, relaxing, and entertaining areas. Open concept designs let family and friends engage in different activities while staying in communication, with people and activities flowing readily throughout the space… but design the kitchen carefully so it still comfortably serves for cooking and serving food.
Expansive open space provides many design opportunities—along with some challenges and trade-offs. An open concept encourages dramatic design elements, such as a decorative tile or stone slab backsplash that goes up to the ceiling behind the range and can be seen from throughout the home. Thinner stone slab for wall veneers makes this luxe look less costly and more practical from a structural standpoint. Plan carefully to place required electrical outlets without detracting from a beautiful focal point. Owners can use a frame to put the outlets together at the top—which is more attractive than single outlets across a slab, but still disruptive. Another option is to use a plug mold that goes behind the trim at the bottom of a cabinet. This results in appliance cords running up the wall to the outlets, so homeowners may prefer leaving them unplugged when not in use.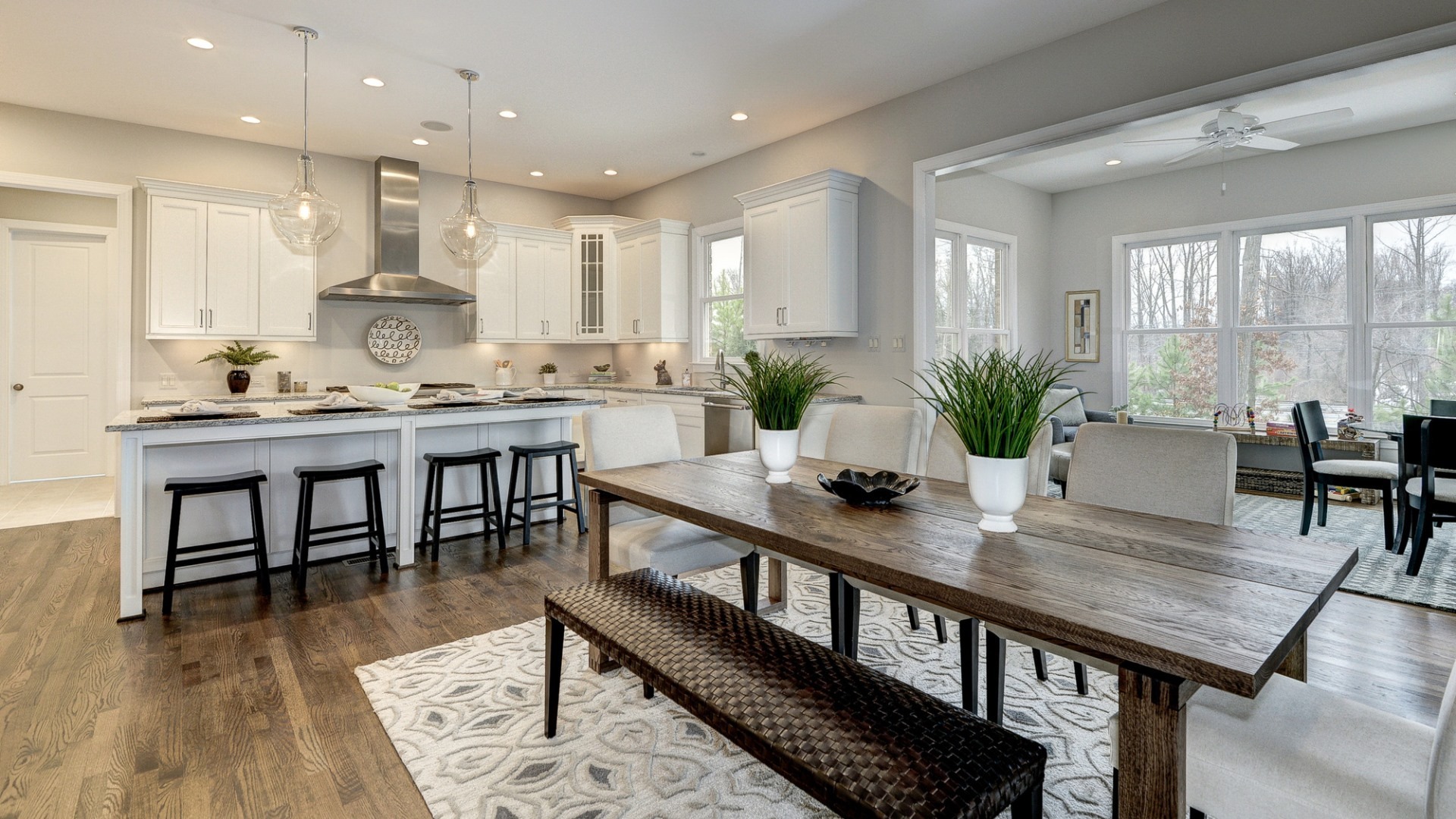 While it brings homes enhanced light and functional flexibility, open concept design also limits wall area to display art, collectibles, and personal elements like children's drawings and family photos. Incorporating features like open shelving and glass-front cabinets is one way to showcase them and personalize your decor. Cabinets to the ceiling are also dramatic, but can be difficult to reach, so are often used only for display.
The popularity of waterfall islands (with the stone or quartz countertop flowing down over one or more sides) can also pose a functional dilemma. Featuring a waterfall on the long side of the island, facing the living space, gives optimal visual impact. But this placement blocks the area typically used for casual island dining. Using waterfall on the short ends is also popular, and preserves function, but doesn't fully showcase the exciting detail.
Pendant lighting remains popular over islands, and many owners like large, statement lighting. On the other hand, small pendants don't break the view of the kitchen, particularly if it includes a feature wall or collectible/art displays, and the chef can better participate in what's happening across the house.
White cabinetry is still a favorite for its classic, clean look and versatility, but light stained cabinets are beginning to appear more frequently, lending warmth to open designs. Cabinet doors are typically sleek with simple trim, in keeping with the move to soft contemporary styling.
Gulick Group emphasizes building on the best of design trends for open concept spaces with staying power. That includes finishes that are durable, beautiful, and cohesive across the space and planning functional areas and flows that are practical and flexible—giving buyers a solid and sustainable foundation to make a home uniquely theirs for decades to come.
About Gulick Group, Inc.: Established in 1987, Reston-based Gulick Group has developed communities throughout Fairfax and Loudoun Counties, including One Cameron Place and Newport Shores in Reston, The Reserve in McLean, Autumn Wood, Grovemont, and the three Riverbend Communities in Great Falls, Red Cedar West in Leesburg, and Wild Meadow in Ashburn.