Understanding "Custom" Homes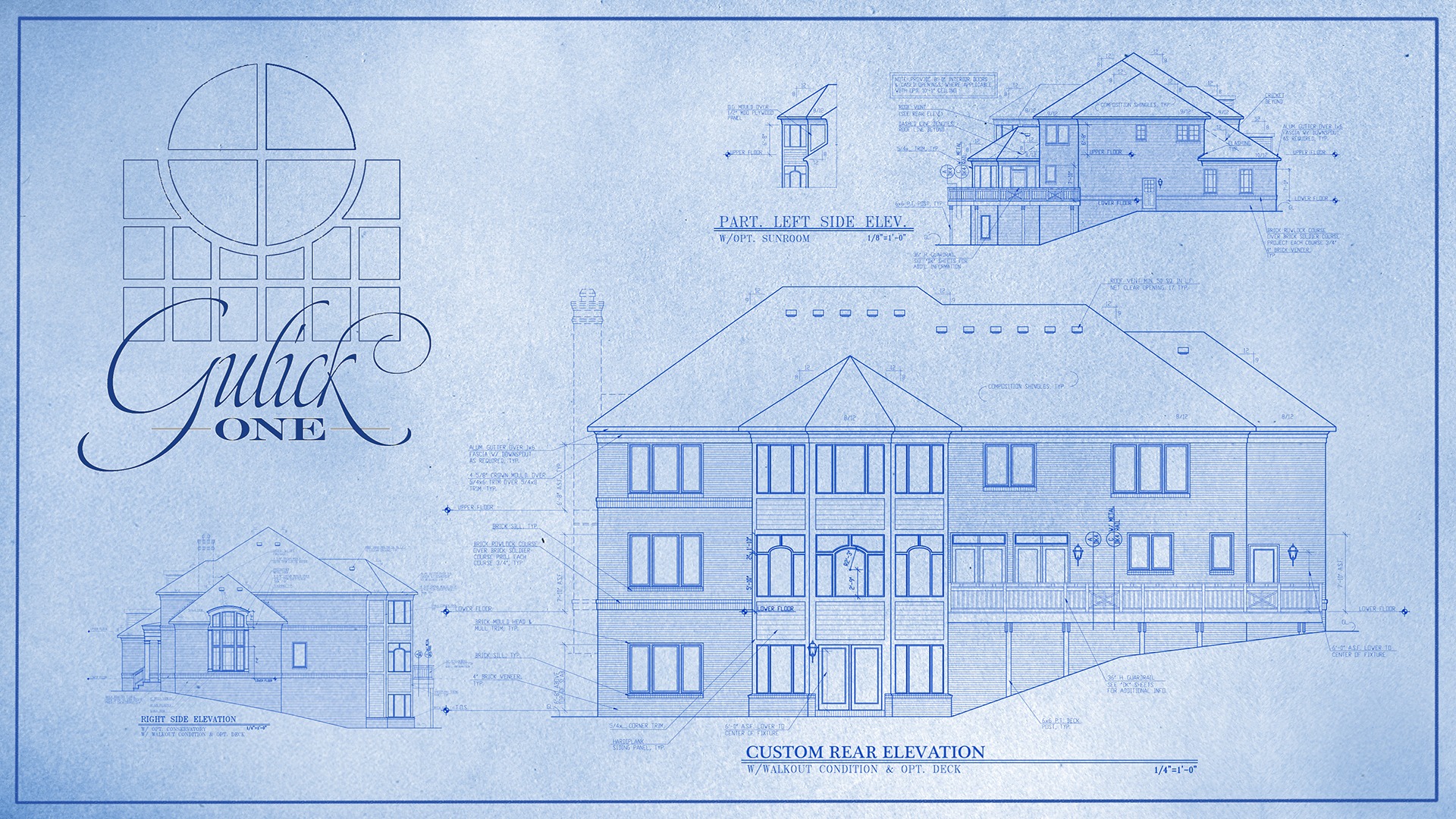 The definition of "custom" depends partly on point of view. In the purest terms, a custom home is one-of-a-kind, designed for a specific client and a specific location. The buyer works with a builder and an architect to specify every element of design. Some people think of non-custom homes as cookie-cutter, or offering very limited options (choose your carpet color, select one of four cabinet styles, and pick from among several countertops). In fact, there are many levels of customization between those extremes.
Most custom builders offer a variety home plans to help a buyer identify preferred home styles, features, and floorplans. Many "custom" homes are modifications of an initial plan, rather than true prototypes.  A "portfolio custom" is when a builder offers home plan from their portfolio, and buyers get the distinctive look and the features they want by designing a custom elevation, selecting all of the finishes and making (sometimes significant) modifications to the plan.  This can help avoid some of the pitfalls of a "true" custom home and reduce the time and cost required to design and build it. That approach might be considered "semi-custom."
For example, a builder can often accommodate different front elevations (a.k.a. the exterior appearance) for the same home model. Different styles and placement of windows, addition or elimination of gables, and the size and shape of a porch can dramatically change the style, making a home appear distinct and unique. Exterior finishes also offer personalization, whether brick, siding, stone, shingles or some combination. Interior options can include enlarging or adding a room, removing a wall, changing the layout or entry location to a room, or even adding an elevator or bath or indoor outdoor space, in addition to an array of choices for appliances, fixtures, finishes, and colors.
Finally, some builders who build a standard model and offer limited or no customization, but build that model on the buyer's lot may also call it custom.  This is often called "build on your lot", but is really more about building a home in the location you want than about bringing your personal vision to your new home.
Before choosing "custom", it's smart to explore the benefits and potential pitfalls of each approach. Talk with a builder before deciding whether you and your family will be best suited by a the uniqueness and drama of a true custom home, or whether semi-custom adaptations can give you the personalization you want on a shorter timeline, with less cost and stress. The table below provides a few considerations.
Gulick | One builds both true and portfolio custom homes.  Please contact us at 571.293.1234 if you have further questions, and to see how Gulick | One can help you make your personal vision a reality.
"True" Custom Home

Semi-Custom ("Portfolio") Home

Benefits

Potential Issues

Benefits

Potential Issues

Specify every detail. Your home can be exactly what you want and exactly where you want it (assuming you can purchase property in your preferred location).
Significant time investment to make myriad decisions on every aspect of design and features.
Tailor a plan you like to create a distinctive home that meets your needs, shortcutting some of the time investment.
Too many changes (or changes too late in the process) can erase the cost and time savings over custom building.
Budget, physics, and local zoning/codes are the only restrictions on style and features.
Every home is a prototype: a buyer must imagine spaces and features based on plans, renderings, and design programs since there isn't an already constructed example. The final results may not exactly match that visualization.
You may visit a model built from your chosen plan and get a realistic sense of space, features, and function. You are only required to visualize changes, which is more manageable.
Certain significant changes, like moving a stair, can impact the entire floorplan. Drastically changing layout may require other structural changes that effectively eliminate the advantages of portfolio custom and put you into true custom home territory.
A one-of-a-kind distinctive home, meeting your specific needs, and exact preferences.
A unique design may bring unforeseen design flaws or construction challenges. Extremely personalized design and features may limit resale market and value.
A proven design minimizes risk of flaws or unforeseen problems.
As with custom homes, extreme personalization/uncommon changes may limit the resale market and value
Most contracts are "cost plus", making the final cost of the home less predictable. Typically, higher cost per square foot.
Gulick | One offers "turnkey", fixed price contracts (with allowances for site work). Less expensive than a custom home of comparable size and features.
Often significantly longer time to complete; 18 months or longer is not unusual. Some projects take years, including the time to complete the architectural design.
Usually shorter construction time than "true" custom. Gulick | One typically delivers a home 11-13 months after contract (including time to secure a permit).
Lack of exact "comparables" may make appraisals more challenging.
Unless you deviate greatly from the original plan, there may be good "comparables" for a full price appraisal.
About Gulick Group, Inc.: Established in 1987, Reston-based Gulick Group has developed communities throughout Fairfax and Loudoun Counties, including One Cameron Place and Newport Shores in Reston, The Reserve in McLean, Autumn Wood, Grovemont, and the three Riverbend Communities in Great Falls, Red Cedar West in Leesburg, and Wild Meadow in Ashburn.