With a little forethought, your basement space can fit your family's needs for the long term, while eliminating clutter and wear and tear in your main level living areas. There are several schools of thought when it comes to making optimal use of basement space. Some homeowners prefer their basement wide open… while others envision specialized uses like the ultimate media room or a home spa or exercise room. The happy medium is flexible, functional space that can evolve as your family's needs change.
Particularly when children are young, a wide open basement provides practical storage and play space—kids can ride big wheels or kick soccer balls to their hearts' content. Open, basic space can also be good for pet care, hobbies and messy school projects.
The two essential elements for any basement – whether bare bones or luxuriously fitted out—are moisture control and lighting. At a minimum, a concrete basement floor needs a finish. The least expensive options is concrete paint. Some of these require sealing, etching or other concrete preparation. A concrete stain with a sealer is another inexpensive choice. It lasts longer than paint but won't disguise any blemishes in the floor. Epoxy, which you may have seen in garages, adds both protection and grip to concrete floors, and works well in unfinished and "semi-finished" spaces. A carpet and pad add warmth; luxury vinyl or engineered wood soften the space with easy care. You might change up floor treatments as activities shift; carpet in a playroom might give way to a hard, easy-to-clean surface when it's repurposed as a hobby room.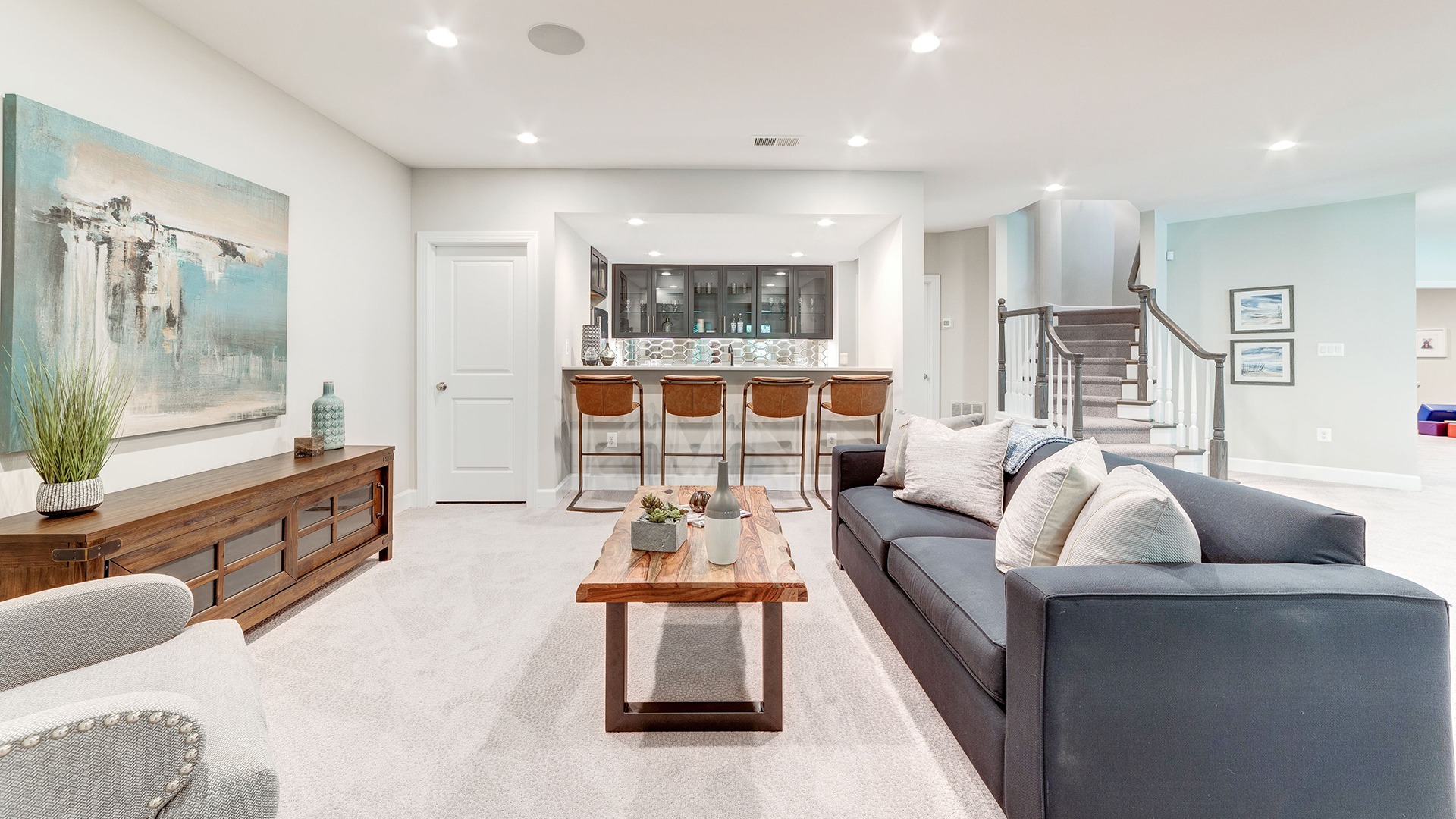 Having a well-lit lower level is paramount to making it feel like a living space rather than somewhere dingy. While bringing in sunlight is best, good ambient lighting… recessed lighting, tracks, overhead fixtures, or task lighting… can also make the space more welcoming and functional.
Individual basement rooms or areas run the gamut from bedroom or office space through recreation areas and workout space. While dedicated media rooms still have their proponents, they are expensive to set up and most families find they don't use them very often. It can be better to plan a functional rec room that is secondarily a media area.
If you're thinking of a game room (foosball, ping pong, pool, or video) it's smart to have a seating area adjoining the space for informal entertaining. Wet bars remain popular, but the traditional walk-behind bar is losing ground to simpler walk-up designs with a refrigerator and a few cabinets. Exercise rooms or areas now tend to demand more room, as the variety of equipment and fitness activities has grown. Walk out basements often include a den that might evolve into an in-law suite that affords privacy and easy access for an older family member or a college student home for the summer.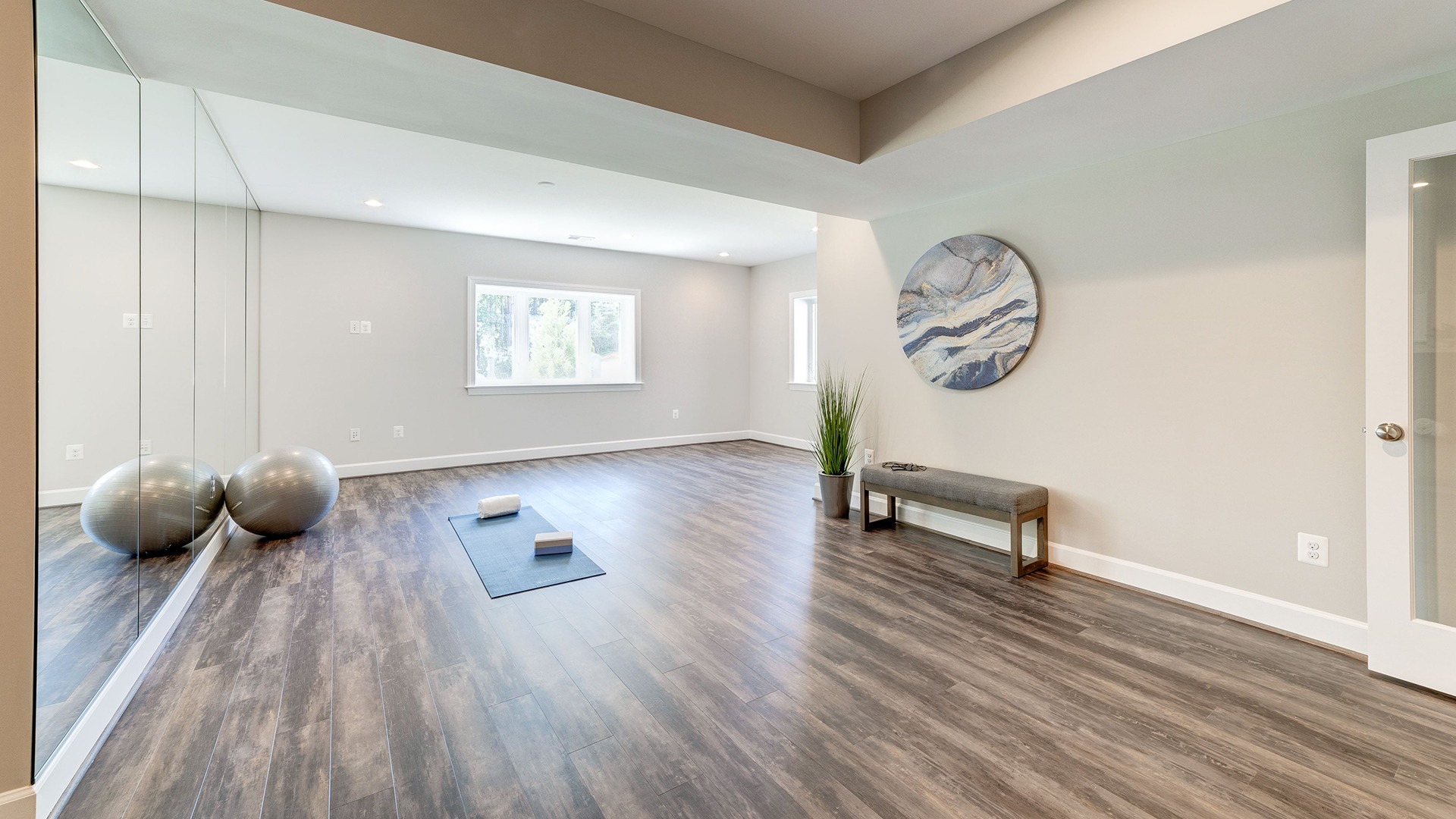 When it comes to highly specialized spaces, be sure that your family has the sustained interest to make the project worth the investment. A sauna may be a fond winter vacation experience, but a feature that gets no use through our long warm-weather seasons. Similarly, a simple kitchenette that can be used for casual entertaining later is probably a better choice than a full-fledged second kitchen that a returning adult child might use for only a year or two.
About Gulick Group, Inc.: Established in 1987, Reston-based Gulick Group has developed communities throughout Fairfax and Loudoun Counties, including One Cameron Place and Newport Shores in Reston, The Reserve in McLean, Autumn Wood, Grovemont, and the three Riverbend Communities in Great Falls, Red Cedar West in Leesburg, and Wild Meadow in Ashburn.