Over the past few months, work, school, and recreation have shifted back to our homes, reminding us just how varied our needs and activities are. Thinking through the many functions your home supports is a smart way to approach planning and outfitting multi-use living areas—whether you're buying a new home, remodeling, refurnishing, or adjusting to changing family needs.
Some areas, tend to be multi-functional by their nature—like mudrooms and basements. But dedicated rooms also work extremely well doing double or triple duty. The key is to be realistic about where your family gravitates and flexible about how you think about your spaces, rather than focusing on what a room is called or its "official" designated use. There can also be a trickle-down effect as you adjust how you use spaces; if you are now using a kitchen as a workspace perhaps you need to move the popcorn machine and smoothie blender elsewhere to make room for office supplies.
A library typically makes an excellent office, as it's usually fairly quiet and private. If it has a closet and a first-floor bath is available, it can also serve as a guest room or temporary first-floor living if a family member is recovering from injury or illness. A sofa-bed or Murphy bed are great options for a multi-functional spare bedroom.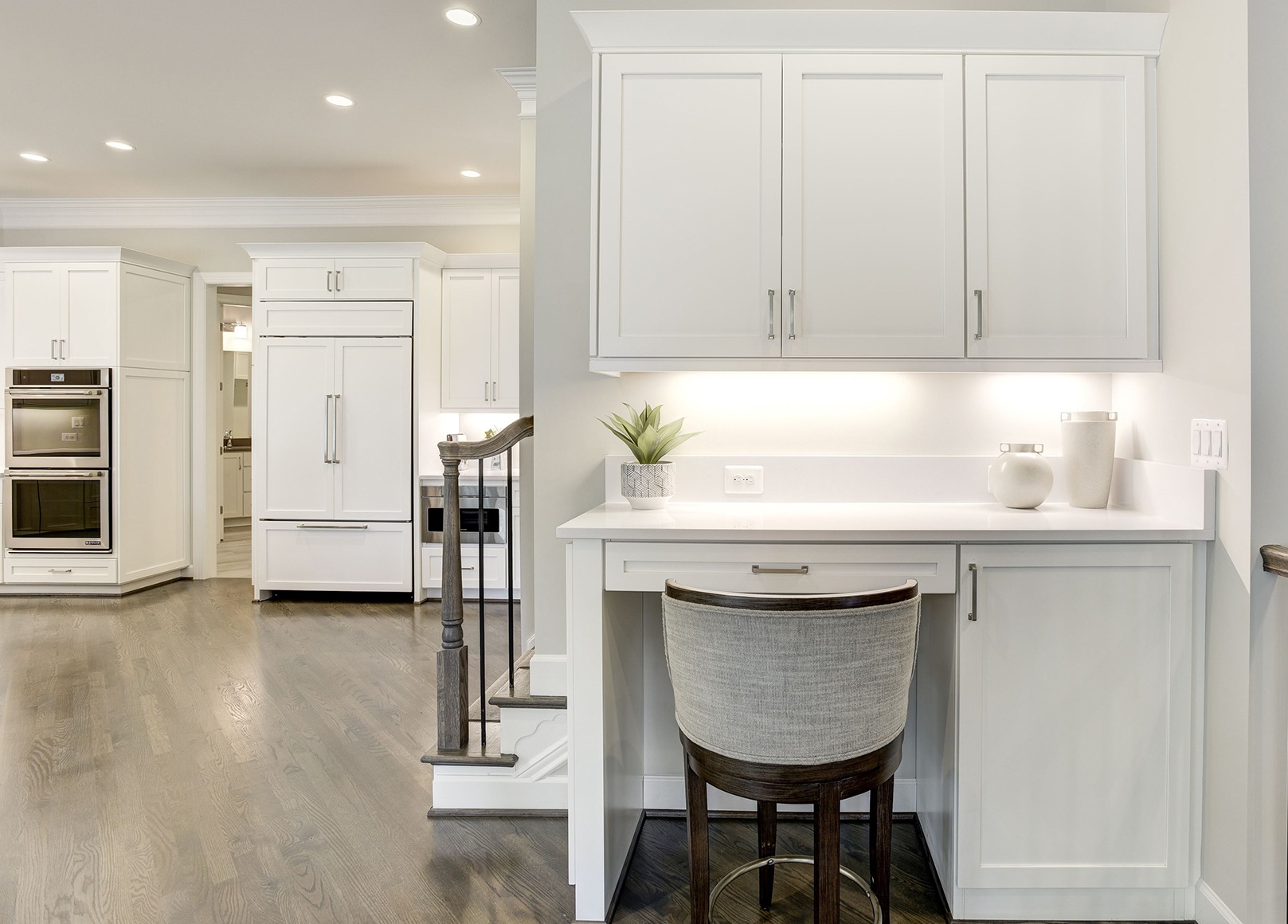 Living rooms also make good offices, particularly if they are used infrequently. Most offer ample space and welcome daylight, but they tend to be located near a home entrance, which can be distracting. A sliding door or French doors can increase privacy and reduce noise and be removed easily later with minimal touch up. Replacing a couch with an affordable desk or using a lap desk can create a cozy, dedicated workspace in a previously unused room.
Larger pantries offer great multi-functional space. They're perfect for stowing seldom-used kitchen appliances as well as staples and food. Beyond the obvious value of kitchen storage, they provide a spot for cleaning supplies and equipment. Including a secondary refrigerator or freezer is a huge help for entertaining and family meal prep, especially when you are dining out less frequently. Including a prep sink and counters, if space allows, keeps the kitchen clean and ready for serving/entertaining.
The kitchen itself tends to absorb all kinds of functions, as it's where everyone congregates. It's probably the most commonly-used area for homework, for example, and often a spot for crafting, or even family activities like puzzles or games. It's easy to include comfortable seating and counter heights for family activities without detracting from the area's central functions of cooking, eating, and entertaining.
Whatever your spacial challenges, start by thinking through all the realistic purposes of various living areas—then set up each room or space to fully support how your family really lives now.
About Gulick Group, Inc.: Established in 1987, Reston-based Gulick Group has developed communities throughout Fairfax and Loudoun Counties, including One Cameron Place and Newport Shores in Reston, The Reserve in McLean, Autumn Wood, Grovemont, and the three Riverbend Communities in Great Falls, Red Cedar West in Leesburg, and Wild Meadow in Ashburn.