Navigating a New Home Build – Finish Selections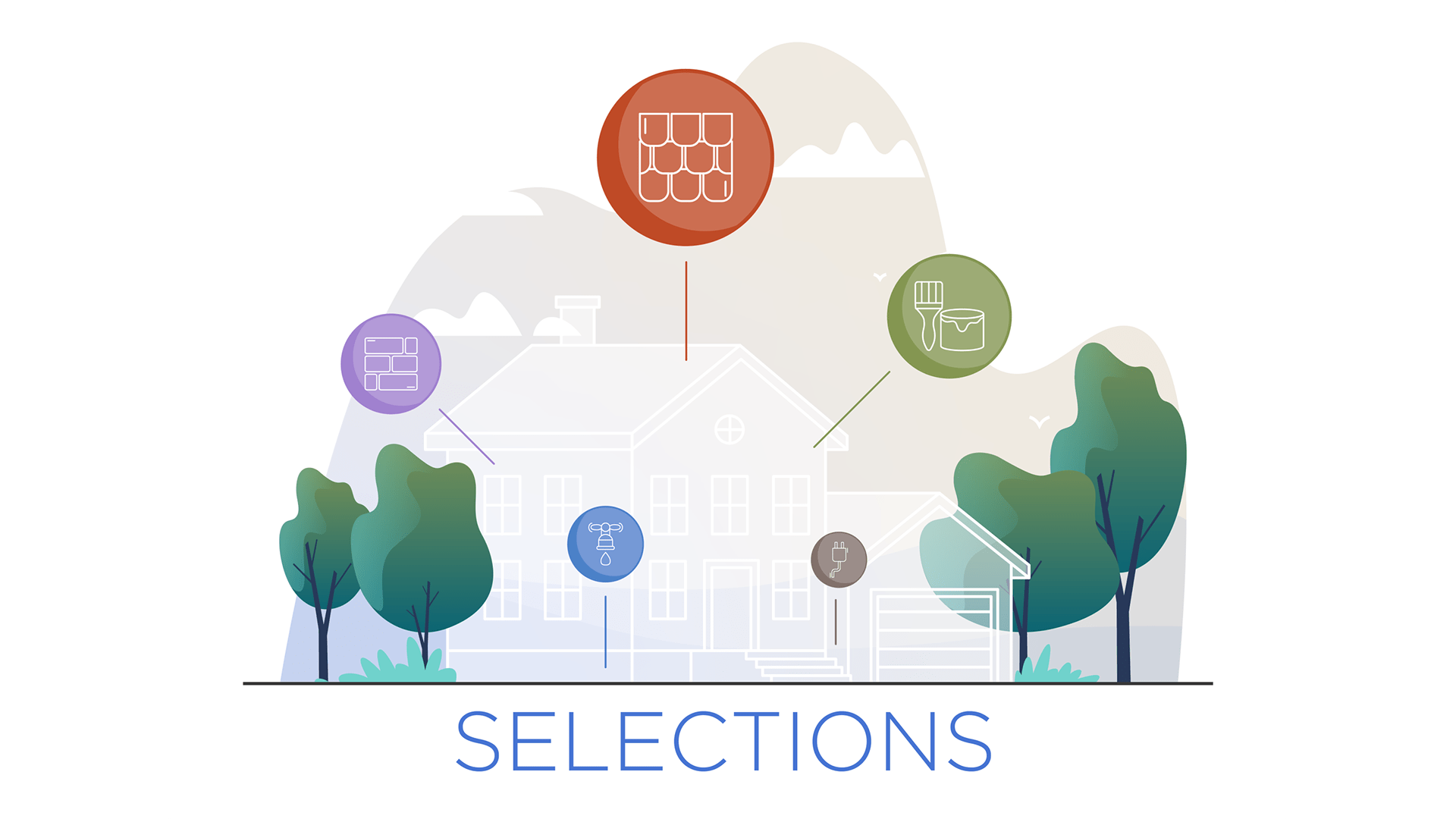 For most homebuyers, the selections process is an exciting opportunity to infuse their personal style into their homes. Having a range of choices for finishes, trim, fixtures, and appliances affords a distinctive look and allows a homebuyer to make changes that suit their family. However, too many choices can create challenges that result in frustration for buyers and delay a home's completion.
One reason one-of-a-kind custom homes take so long (up to two or even three years) to complete is that the buyer can be involved in choosing nearly every material and decorative element.
Consider something as seemingly simple as cabinet hardware: the knobs and/or pulls must be the right scale for and complement the cabinets, while not clashing with appliances and other finishes—and there are literally thousands of options available.
To avoid the paralysis of too much choice, most home builders offer a menu of selections for elements such as flooring, cabinets, countertops, plumbing fixtures, and appliances. Some builders offer one set of "standard" options for each category, which is included in the home's purchase price, and "upgrade" options at additional cost. Some builders, including Gulick Group, will also work with buyers to choose options outside the standard selections if a buyer can't find what they are looking for in the option menu.
Gulick Group does so with the caution that choosing too many items outside the menu of offerings can create complexity and unintended design impacts. Gulick carefully curates options that all work well together and with the overall design aesthetic of our homes. Finish choices, trim, hardware, and lighting fixtures that coordinate make for an elegant feel across large open spaces and continue that seamless experience in enclosed rooms. It also simplifies what can be a somewhat daunting task for a buyer.
Choosing one custom element, like a distinctive lighting fixture over the kitchen island, can create a beautiful focal point. Add additional custom lighting fixtures, a patterned tile backsplash behind the range, and a unique countertop for the island, and the room could get busy and discordant. Buyers must be aware that some choices, such as stone flooring, can have construction impacts such as requiring more structural support or adjustments to stairs.
Another potential challenge is that choosing a distinctive design element that doesn't mesh with any of the standard selections can create a cascading need to vary other choices, extending the selections process and delaying the build. With current supply chain issues, this also introduces risks of chosen products being unavailable or backordered, making an urgent reselection necessary later.
Many homeowners moving from older homes are eager to embrace current trends, which can also have pitfalls. Barn doors grew popular when the contemporary farmhouse style took off, but now those doors can date a home. Rose gold for plumbing and lighting fixtures can be beautiful and striking but may also create a time-capsule feel. If you want to evoke a trend, be selective and establish the look through accessories and decorative elements that are that are timeless and (ideally) easy to update later.
Your builder can advise you when a choice has functional or practical impacts. For example, open kitchen shelving is beautiful in a model home or a magazine, but for most families, they tend to get cluttered and messy quickly. Cabinetry in laundry rooms is very popular, but many families are more likely to use hanging space than extensive storage by the washer and dryer.
Think through your design priorities and what personal touches you'd like to put on your home before you begin making your selections with a builder. Bring photos of the look you're going for so the builder can help you choose finishes that work well together. In the current supply chain environment, you may have to select certain items (i.e., appliances) as early as possible to make sure they are received in time for move-in.
Finally, take advantage of an interior design consultation if your builder offers one. Gulick includes an interior designer in the selections process to help buyers feel confident that the final effect will be what they want. You can bring photos of art or furnishing that you want to highlight, and the designer can help identify selections that will let you showcase your interests and personality to greatest effect.
About Gulick Group, Inc.: Established in 1987, Reston-based Gulick Group has developed communities throughout Fairfax and Loudoun Counties, including One Cameron Place and Newport Shores in Reston, The Reserve in McLean, Autumn Wood, Grovemont, and the three Riverbend Communities in Great Falls, Red Cedar West in Leesburg, and Wild Meadow in Ashburn.