Kitchens are the heart of the home. From cooking and entertaining, to family meals and homework, the kitchen is where everyone gathers.
The two most prominent design statements in the Kitchen are the appliances and the island. For many years, islands came in shapes, sometimes with multiple tiers and even table attachments.
Today's islands are big, bold, sleek and almost always rectangular. The top may feature a more colorful countertop and a different texture than the Kitchen perimeter, and "waterfall" islands, when the top extends cleanly down each side to the floor, are very popular. Counter edges are usually square-ish ("eased"), rather than featuring an ogee, bullnose, beveled or rounded edge. Sometimes the island edges have a different edge treatment detail than the other tops in the home.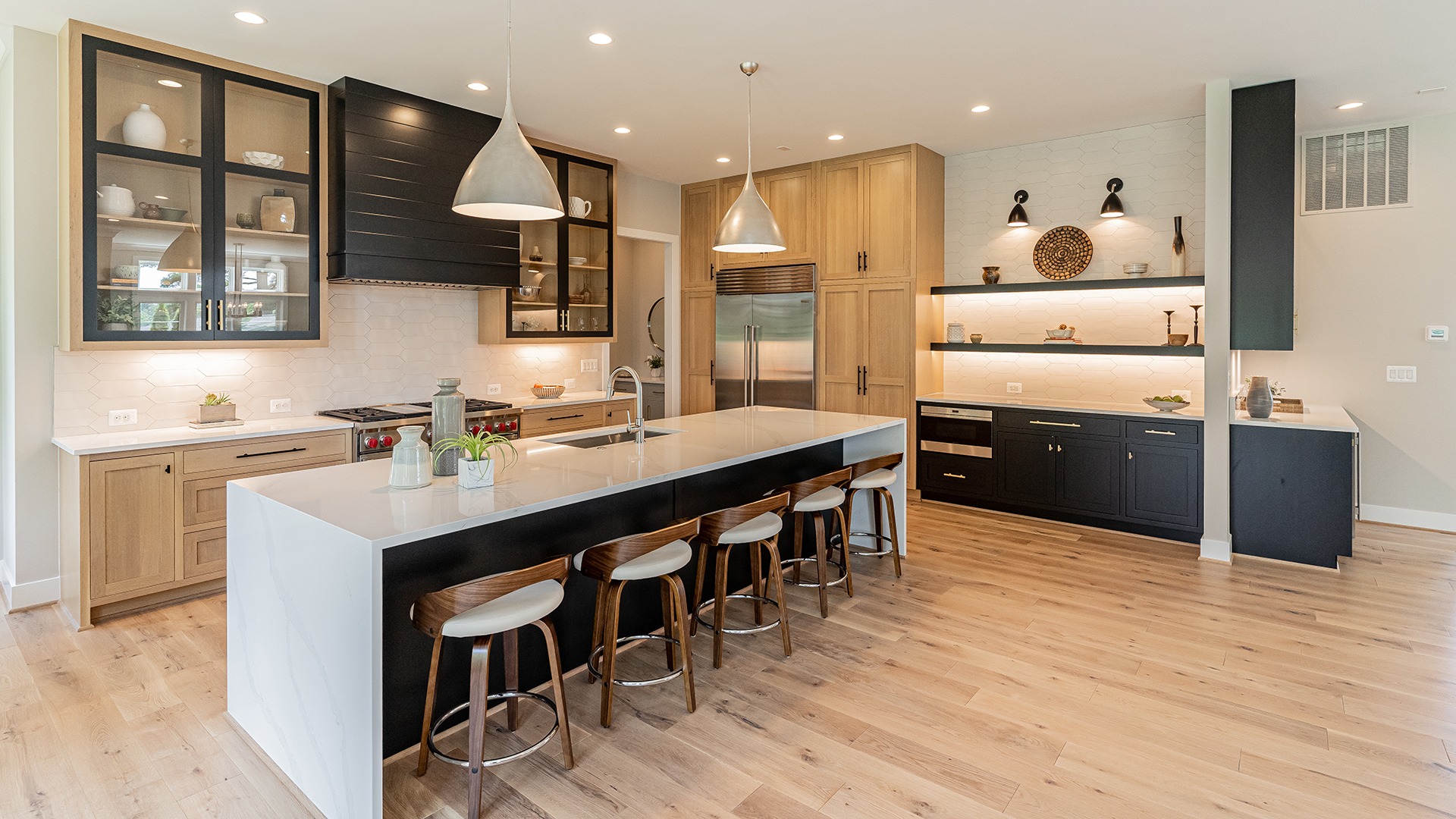 Very large islands may require seams in the countertop, as they exceed the maximum in-stock size of some materials. It is sometimes possible to order a larger slab, but it is often very expensive to fabricate and ship one, and the lead times can be prohibitive. Fortunately, when well done, a seam is not very noticeable, especially when placed carefully.
Countertops that appear thicker are also popular but can reduce available cabinet space and the size of doors and drawers. The effect requires "doubling up" material, but the countertops are usually not thickened all the way across, as that would make them too heavy. This design feature requires drawers and doors to be brought down in height, sometime with a need for custom cabinets. All of these changes add cost… so it can be an expensive look.
Countertop materials run the gamut, from Corian, quartz, and granite, to cork, concrete and butcher's block, each with pros and cons when it comes to durability and maintenance. Quartz has edged out granite for its extraordinary range of colors and patterns, as well its ease of care. Bamboo is eco-friendly and adds warmth but is easily stained, scorched, and cut – and can warp from moisture exposure. Cork is also sustainable (although overseas shipping offsets that benefit somewhat) and must be sealed periodically to avoid water damage. Varnished butcher block is stain-resistant, but a poor choice in terms of heat and water resistance. Oil-finished wood offers better heat resistance, but stains very easily. Concrete can chip and scratch easily and may develop hairline cracks if not properly installed. Marble is beautiful and luxurious, but is sensitive to staining and not appropriate for kitchen use, as it chips easily and must be resealed frequently.
From a functional perspective, many homeowners are opting for normal chair-height island seating areas, rather than using a raised island section for tall stools or chairs. Putting seating on the side away from the kitchen preserves access to the drawers and cabinets—but can disrupt the view of a waterfall, which has the most impact when facing the rest of the house. While a sink or cooktop can be functionally advantageous, most modern islands forgo them to have clear expanses of counter for a clean look with optimal visual impact.
Some homeowners like to take advantage of the island's space with display cabinets on the seating side of the cabinets for cookbooks or collections. This can also help keep events flowing, as it can discourage guests from sitting in the kitchen.
About Gulick Group, Inc.: Established in 1987, Reston-based Gulick Group has developed communities throughout Fairfax and Loudoun Counties, including One Cameron Place and Newport Shores in Reston, The Reserve in McLean, Autumn Wood, Grovemont, and the three Riverbend Communities in Great Falls, Red Cedar West in Leesburg, and Wild Meadow in Ashburn.